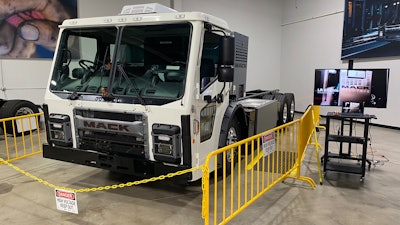 With two new trucks has come a new training center for the Volvo Trucks and Mack Trucks Academies.
Earlier this year, Volvo and Mack Trucks announced the relocation of their joint dealer and fleet technician training center from Joliet, Ill., to nearby Tinley Park. The move was necessitated by the two brands' growing product lines — specifically the Volvo VNR Electric and the Mack LR Electric.
At nearly 15,000 sq.-ft., the new training center is nearly double its prior footprint and Technical Training Managers Jason Wasserott and Adam Prusakiewicz say nearly all aspects of the facility have been expanded. The new location features dedicated classrooms for Volvo and Mack curriculum, a large common area for joint meeting and demonstrations and an additional training room. The garage is larger too, with three trucks on site (and space for more), dedicated module stations for engine and transmission training and plenty of bench space for smaller component work.
Mack and Volvo both state the growing acceptance of their EV products as a motivating factor in expanding their training footprint, yet the new Tinley Park location provides more than just EV training. Mack offers ten on-site courses and Volvo nine at the facility, and only one of each are EV-centric. Most of the curriculum taught at the training center are existing courses that were previously taught at the Joliet location.
But with the new facility does come added space to bring in more technicians per course, if necessary.
[RELATED: Get your copy of our updated State of Diesel Technicians report FREE]
Wasserott and Prusakiewicz say technicians are registered for on-site courses through their respective OEM learning management systems. Technicians can independently request to take courses (and be admitted after supervisor approval) or be registered for courses by their managers. Wasserott and Prusakiewicz say technicians also are required to complete online relevant training modules in advance of attending an on-site course to ensure they are capable of participating in the training.
[RELATED: HDA Truck Pride announces six semifinalists of national tech competition]
And Volvo and Mack each have a large virtual curriculum of nearly 20 courses, developed by specific teams who work the company's engineers and product managers to ensure all available courses provide proper training on existing product lines. Wasserott and Prusakiewicz say those same teams also develop the curriculum for the Tinley Park facility and offer guidance to the trainers about new courses or curriculum updates whenever they occur.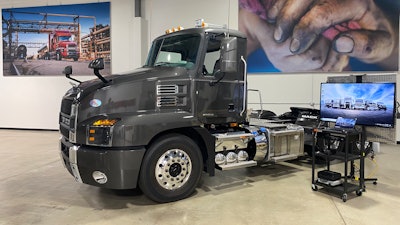 Onsite training in Tinley Park occurs almost weekly. Wasserott and Prusakiewicz say most in-person classes are two to four days in length, with individual classes of generally two to eight technicians at a time. Oftentimes, the duo says large classes will include technicians from multiple dealer companies, though smaller classes due still occur. And with franchise rules stating at least 40 percent of technicians in a dealer facility be Master Certified, onsite training is always in demand across the two dealer networks.
The new facility supports other training too. Aftermarket parts and sales training events have been conducted at the facility, and a select number of technical courses also are offered to fleets for their technicians. Wasserott and Prusakiewicz teach the latter, while other Volvo and Mack associates led the parts and sales trainings.
Both OEMs are enthusiastic the new facility will improve their dealer technician training capabilities.
"The programs at Tinley Park will help provide our dealership partners with the robust sales and service training required to become Volvo Trucks Certified Electric Vehicle (EV) dealers and to support customers with their zero-emission transportation goals," said Leanne Fitzpatrick, strategic programs manager, Volvo Trucks Academy. "As interest in the Volvo VNR Electric model continues to build across North America, the Tinley Park facility will serve an important role servicing dealers and customers in the Central U.S., as it is easily accessible from both O'Hare and Midway airports."
"The Tinley Park Mack Academy is located in a central location so that dealers and customers needing training can easily travel to the facility," added Scott Behe, Mack Academy senior manager of operations. "The facility [also] is about 5,500 sq.-ft., bigger than our previous location, so it fulfills our need for more space for BEV-specific training."