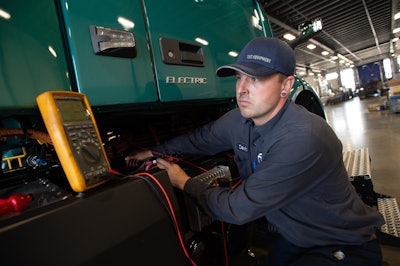 Volvo Trucks North America
With any new powertrain comes new safety instruction. But where internal combustion engine (ICE) advancements often introduce new components into familiar systems, electric vehicles (EV) are virtually unknown technologies to many truck technicians.
That unfamiliarity can lead to catastrophe if service providers don't complete their due diligence in training associates and providing essential personal protection equipment (PPE) and safety solutions within an EV service bay.
"Training is absolutely paramount when it comes to safety around EVs. So much of what we know about being safe around diesel engines doesn't apply to EVs," says Chas Voyles, Navistar senior director of regional sales, and chair of TMC's "Safety Aspects of EVs" task force. "If our industry is going to support this equipment, we have to ensure our people know how to be safe around it."
'High Voltage Rock and Roll'
It shouldn't take AC/DC rocking out to inform technicians of the high-voltage risks associated with EVs. There are warning stickers right on the truck.
While most Class 8 diesel trucks operate using 12-volt electric systems, Class 8 EVs can run on as much as 650 volts. That much electricity requires incredible caution at all times.
Beyond TMC, which has five EV safety-related recommended practices in development (below), OEMs, government and other third-party groups like ASE are all working to create comprehensive safety guidelines for industry to use.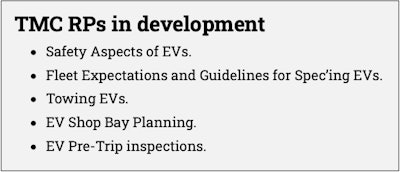 "I think there are going to be a lot of shops and technicians, especially in this early adoption phase, who will look at EVs and say, 'not for me,'" says Trish Serratore, ASE senior vice president of communications. "There is a lot that must be learned to be safe around this equipment."
"A learn as you go approach is not really acceptable in a battery electric world," said Rick Mihelic of the North American Council for Freight Efficiency (NACFE) during a panel discussion at TMC's Annual Meeting in February.
Knowing how to power down or "de-energize" a battery-powered vehicle for service and safely evacuate a truck or service bay during a thermal event — "engineer speak for a fire," says Trova's Chad Burchett — are two areas where safety procedures are absolute necessities.
Additionally, as ASE states in its "Electrified Propulsion Vehicles (xEV) High-Voltage Electrical Safety Standards" document, OSHA regulations require technicians demonstrate their skills to their employer, and all employers must "verify an individual's ability to safely use test equipment and work on electrified propulsion vehicles" following an OEM's recommendations.
Tooling and shop safety
Beyond education, EV service shops also must be equipped with specialized PPE and tools for technicians to conduct service and use in case of high-voltage emergencies. Recommended equipment includes rubber insulated gloves, rubber floor mats, safety goggles and face shields, protective footwear, insulated hand tools, insulated retrieval hooks and more.
ASE states technicians must follow OEM guidelines regarding which tools and protective equipment to use during service. ASE also states technicians must be sure to not wear specific clothing or accessories that could impact their safety, and any expired or damaged PPE should be replaced immediately and never used.
Electric service bays also shall be isolated within service shops, with barriers restricting access.
"As required by a vehicle manufacturer, the technician shall maintain a defined safety zone around the work area and place warning signs when high-voltage system repairs are lefty unattended," ASE writes in its safety standards.
(For more on shop development, see our article "Building your best EV service bay.")
Keep up with our special report on trucking's transition to cleaner trucks:
Part I: This isn't trucking's first fueling and propulsion revolution
Part II: Why are we doing this?
Part III: What constitutes as 'alternative power'?
Part IV: What will drive — or inhibit — alternative power adoption?
Part V: Performing an alternative power market analysis
Part VI: What it takes to install charging infrastructure
Part VII: Training on alternative powertrains vital to employee safety, business success
Part VIII: The challenges of building your best EV service bay
Part IX: Making the case: How to effectively sell alternative power
Part XI: How electric trucks may transform dealer revenue streams