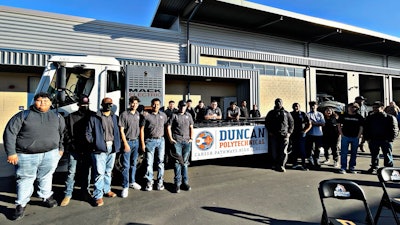 Mack Trucks
If electric vehicles and other alternative powertrains are the future of trucking, there's a good chance many of the technicians that will become experts on this equipment are still in school.
We checked in with two well regarded diesel tech programs about how they're following trucking's powertrain evolution and how industry changes force educators to transform their curriculum to prepare student for no longer exclusively diesel career.
WyoTech, Laramie, Wyo.
"We hold an advisory board meeting twice a year and bring in the industry experts and employers to do an overview of our program. Our meeting with them mentions trends, safety requirements and new tools and equipment in our industry," says Shawn Nunley, vice president of training.
"The advisory board plays a large roll in what we feel are important topics needed to help our students become successful in in the industry. We have full control of our LMS (learning Management System), and if new technology or new trends come out, we can make these changes on the fly. We as a team are always bringing things to the table, we want to be sure to give the skills to our students to be productive day one on the job."
[RELATED: Training on alternative powertrains vital to employee safety, business success]
He adds, "Currently, we are discussing alternative EV powertrains, but not doing a deep immersion into it yet; our focus at this time is still more of traditional fuel options and natural gas. EV technology is an area we are keeping an eye on to see what direction it goes and the needs of the industry. There is such a small percentage of EV vehicles on the road, and even smaller in the heavy haul market.
"We do discuss what is happening in the industry with these new developments occurring, we also let the students know when they leave us here at WyoTech, they are going to have to be lifelong learners. Staying up with the industry is a full-time job on its own … I feel when we decide to make a change, we are on a good course to do so."
Duncan Polytechnical Career Pathways High School, Fresno, Calif.
"[California's] upcoming statewide implementation of vehicle electrification in the medium- and heavy-duty truck sector has required my school district and myself to have sufficient foresight in preparing the infrastructure to facilitate the much needed training that technicians' will require in order to service and repair these vehicles," says Eric Rubio, heavy-duty truck program instructor.
[RELATED: Fresno tech school purchases Mack EV to train students on new technology]
"I have current curriculum in my existing textbook that covers high voltage electricity, hybrid and hydrogen fuel cell drivetrains and electric powertrains. I will also be supplementing my textbooks with a dedicated text concerning electrified vehicles which will have hands on and exploratory activities in line with the new standards and associated tasks that will be coming from the ASE Education Foundation guidelines. Additionally, I will be supporting my students through successfully obtaining level 1 certification with ASE's recently launched xEV Electrical Safety Awareness Certifications."
He adds, "This instruction is vital because it is foundational to their projected occupations as electric vehicle technicians. The future will require them to possess electrical proficiency that far exceeds the current requirements for internal combustion engine repair. Students who obtain vital foundational knowledge and safety concerning vehicle electrification will be ahead of the curve when it comes to continuing their education at the post-secondary level and/or manufacturer sponsored training.
"My students are eager to learn about vehicle electrification because it is at the forefront of transportation technological advancement. They also respect and recognize the privileged position they are in to be able to receive such education at such an early level."
Keep up with our special report on trucking's transition to cleaner trucks:
Part I: This isn't trucking's first fueling and propulsion revolution
Part II: Why are we doing this?
Part III: What constitutes as 'alternative power'?
Part IV: What will drive — or inhibit — alternative power adoption?
Part V: Performing an alternative power market analysis
Part VI: What it takes to install charging infrastructure
Part VII: Training on alternative powertrains vital to employee safety, business success
Part VIII: The challenges of building your best EV service bay
Part IX: Making the case: How to effectively sell alternative power
Part X: Safety in the Service Bay
Part XI: How electric trucks may transform dealer revenue streams