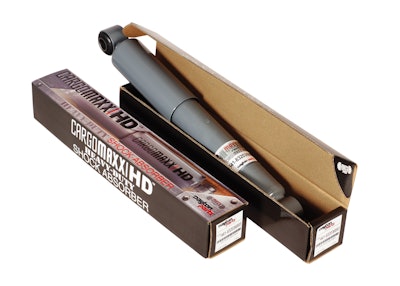 Dayton Parts has announced the launch of its CARGOMAXX HD premium shock absorbers designed for superior ride control and cargo protection in Class 7 and 8 commercial vehicle applications.
Dayton Parts says these new shocks are equipped with a nitrogen gas-charged system, which provides faster response time to road changes and reduced fade, and are available in three models: cab shocks, standard duty shocks and steering damper shocks.
"Shock absorbers play a critical role in maintaining a vehicle's ride, protecting its payload and, most importantly, keeping the driver safe," says Walt Sherbourne, vice president of marketing, Dayton Parts. "The CARGOMAXX HD line of shock absorbers is a premium replacement offering that fleets and vehicle operators can rely on for increased operational control and a smooth, comfortable ride."
Ideal for linehaul trucks, tractors and trailers, as well as vocational and last-mile delivery vehicles, school buses, and more, Dayton Parts adds the new shocks offer:
An innovative sealing system for consistent damping, minimizing excessive misting;
Superior welds on key functional components for greater overall durability; and
Thick-shouldered permanent-mount bushings with exclusive rubber compound for greater durability
Engineered to meet or exceed OE specifications, the shock absorbers also further expand the CARGOMAXX HD line of suspension components offering end-users more premium replacement solutions for their specific application, the company says.
RELATED: Dayton Parts announces acquisition, new coil spring line
"The new shock absorbers are designed for today's advanced suspensions and are road-proven in the most extreme conditions. They are the perfect addition to our line of CARGOMAXX HD products, further cultivating our portfolio of complete suspension solutions," Sherbourne adds.
CARGOMAXX HD shock absorbers are available for immediate ordering now, the company says.