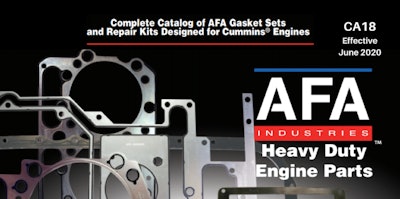 AFA has introduced a gasket catalog that showcases the most comprehensive gasket coverage for the Cummins family of engines covering over 100 years of the various displacement Cummins engines.
This new catalog shows detailed bills of materials and, most importantly, an image of each gasket and seal or special component included in the gasket set. You will be able to identify and confirm that you are ordering the exact, correct gasket set or repair kit for your engine and repair operation.
Included in the catalog are OE-style gasket sets and AFA's proprietary specially configured gasket kits tailored specifically to individual repair operations when rebuilding and servicing Cummins engines.