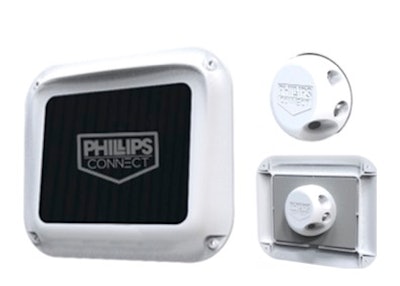 Phillips Connect has introduced an economical and easy-to-install interior cargo camera that captures the status of the load in real time.
According to Phillips Connect, the 100 percent solar-powered Phillips Connect CargoVision camera monitors and can report the quality of the load (green = safe, red = unsafe) before the doors are open for unloading. With this information, actions can be taken to safeguard against injury.
"Currently available interior trailer cargo cameras tend to be complex and pretty expensive," says Jim Epler, executive vice president, Phillips Connect. "We took a different approach, developing a very effective, affordable interior cargo camera that our fleet customers can install quickly to monitor their trailer loads for unsafe conditions, or verify the load condition without a large investment in money and time."
The Phillips Connect CargoVision solution can be installed in as little as 15 minutes. The company adds 1080p cargo images are continuously captured to be delivered on demand, in a pre-programmed time interval, or driven by a specific event (motion or door open/closed) via Bluetooth connectivity to the Phillips Connect trailer gateway module.