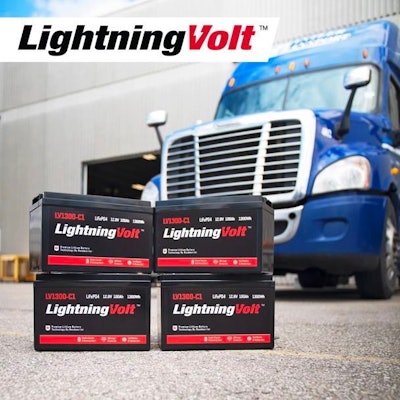 LightningVolt by Roadwarrior is a plug-and-play upgrade for truck APUs (like ParkSmart and KIMS) or power inverters. The company says it is designed to power those long-haul essentials like A/C, fridge, microwave, electronics and more, without running your engine or a noisy generator. LightningVolt batteries are designed in Canada and built to withstand harsh winters and challenging terrain.
Roadwarrior developed LightningVolt to let drivers use their parked trucks without idling, which negatively impacts fuel consumption and lifespan of aftertreatment components.
Lithium batteries are popular with marine and mobile home users; LightningVolt provides the heavy-duty market with a longer-lasting and more reliable upgrade, suitable for any off-grid application.
Roadwarrior says lightningVolt vs traditional batteries:
100Ah battery
Lasts 10× longer
Direct fit and easy installation
Greater depth of discharge
Improves fuel and DEF economy
Built-In safety for peace of mind
Fewer replacements and less downtime
Works in freezing temperatures
2X more usable power