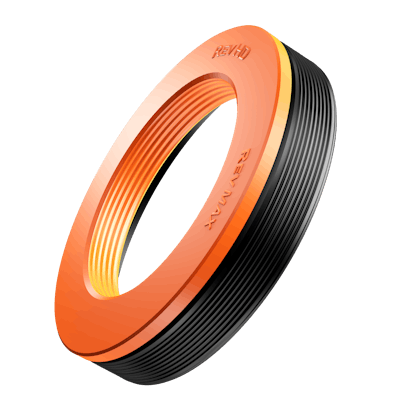 RevHD announced Monday its improved Rev Max wheel seal is now available nationwide.
As a replacement for OEM wheel seals, the Rev Max carries a five-year warranty, which the company says includes the vehicle's brakes if the technician performing the service has completed RevHD's online training program.
"We've focused a lot of our efforts on improving our already top performing seal. Our company was founded to build a better wheel seal, and we're not going to rest on our laurels,"saysRevHD'sBrian Beathard."We're in service shops almost every day with customers who are installing our seals, and we understand the real world conditions under which a wheel seal must perform. This isn't like first-fit at the factory where everything is new, our customers expect a lot out of their truck or trailer, and therefore they expect a lot out of our seals.We've worked to exceed these expectations."
RevHD says the most striking feature of the improved Rev Max seal is the orange color of the seal's top plate. Formulated from HNBR rubber, extensive testing went into ensuring the coloration didn't degrade performance. The orange color enables customers to see in an instant whether the seal needs to be replaced, RevHD says. It also has better temperature ratings and works better with older spindles.
Beyond the color, the Rev Max seal features a flex design. Designed to flex or pivot during installation, this helps to avoid common failures from docking the hub onto the spindle and cocking the seal in the hub bore. The flex also designed can be felt when holding the seal in your hand, the company says.
The top plate also is famously durable, so much so the company says the seal can be safely installed with any flat object, including a hammer. With a wider seal and more sealing surfaces than competitors, the Rev Max seal is designed for the toughest uses, the company says, including equipment that routinely travels off-road, such as logging, mining, refuge, or construction. Withstanding the extra stresses of axle and wheel articulation inherent in this type of environment, the Rev Max seal has proven itself in millions of real world miles.
And the real world is where the improved Rev Max seal shines, the company adds. Having undergone more than a year of testing with key customers in diverse applications, the performance data gathered by the company shows the upgraded seal delivers on its promise of protecting a wheel end from premature leaks – even in the harshest environments.
Each Rev Max seal includes a free tube of Seal Extend, a proprietary formula that causes the rubber to swell slightly after installation, helping to fill pits and spaw marks on older spindles or hub bores.
Rev Max wheel seals are available at leading distributors throughout the U.S. and Canada.