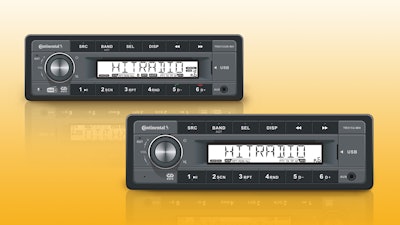 Continental has launched its line of Silver Line analog radios. The new Continental radios have been designed with today's modern vehicles and equipment in mind and feature a wide range of accessibility functions and inputs that improve overall usability.
Continental Silver Line radios equipped with Bluetooth now offer added access to the Google Assistant and Siri digital assistant platforms. This allows users to engage their smartphone's digital assistant through a button on the radio faceplate, improving operator safety by ensuring hands stay on the wheel and not on smartphones. The Bluetooth enabled radios also feature internal or external microphones that allow hands-free phone calls, the company says.
All radios in the Continental Silver Line also have been upgraded with Weatherband alert technology to alert users of potentially hazardous weather conditions. The Silver Line radios are a part of the National Oceanic and Atmospheric Administration's (NOAA) Weather Radio All Hazards (NWR), a nationwide network of radio stations that broadcasts continuous weather information from the nearest National Weather Service office.
Designed for easy readability under a variety of lighting conditions, Continental Silver Line radios feature white backlighting with a black and dark grey faceplate. The contrasting dark face and white backlighting provides exceptional visibility and a vertical viewing angle of -30° to +30°. The radios also feature a visible clock.
In addition to hands-free features, the Silver Line radios also include USB and auxiliary inputs and run on 12V power. They feature non-volatile backup memory which retains settings and radio presets in case of a loss of power. The radios are equipped with a Radio Data System (RDS) Tuner and have options for DAB/DAB+ tuners for international markets. Continental Silver Line radios have CE, E, and FCC certifications, the company says.