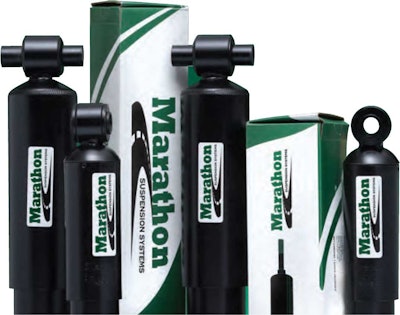 Marathon Brake Systems has developed a new line of heavy-duty shock absorbers for a wide range of truck, trailer and severe service applications.
Marathon says its new shock absorbers are designed and built to provide a comfortable, smooth ride and reduce vibrations from suspension systems. These hydraulic shocks feature rugged construction with reinforced welds, tough end mounts and durable piston seals to provide consistent performance over the life of the shock.
The new line of shock absorbers also feature a heavy-duty design for a long service life, the company says. The shocks have perimeter welding for the closing system, reinforced projection welded zones (8,000 lb., maximum tensile strength of mounting), and end-cap/outer tube welding that delivers 12,000 lb., maximum tensile strength (assembly tested under 10-15 psi air pressure submerged in water without leaks).
The shocks also utilize Super Chrome Piston Rods for extra durability and corrosion protection. Marathon says these Piston Rods have temper hardness of 30-55 Rc, chrome plated surface hardness 67 Rc min., 0.0004 in., min. thickness, are dehydrogenized at 218°C for 70 minutes, a surface finish of Ra:6µ" and Rz:45µ", and are salt spray test for 24 hours minimum.
Top-performing Marathon shocks feature a hydraulic stop design that outperforms the market leader, the company states. The shock's seals and valves facilitate piston dampening in both up and down movements for a smoothness of vibration absorption that improves driver comfort and durability. A high-viscosity hydraulic oil is used for consistent performance over life of shock and the design provides increased hydraulic oil capacity to protect internal components. Marathon says the shocks improve tire wear and protect vibration sensitive components.