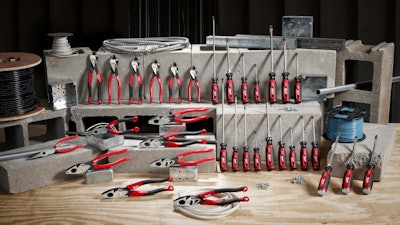 Milwaukee Tool has introduced cutting and long nose pliers as well as a series of screwdrivers.
Milwaukee's new cutting pliers provide users with the easiest cuts and feature an optimized pivot point design that gives maximum leverage to cut through tough materials. Built to last, these cutting pliers have laser-hardened edges delivering a long cut life, the company says.
The cutting pliers are engineered to deliver the smoothest open and close experience with no break-in period required. Offered in comfort grip with lanyard hole and dipped grip with a split-ring hole, these cutting pliers are tether-ready for complete tie-off while working on the jobsite.
Select models include an integrated crimper for insulated and non-insulated terminals, #6 and #8 bolt cutters, and straight fish tape puller or an integrated thread cleaner. Long nose pliers are designed to deliver the best grip featuring cross-hatched, laser-hardened teeth for maximum grip in pulling or twisting applications.
The screwdrivers are custom machined and engineered with precision fit tips to offer the best fit and to reduce stripping during demanding fastening applications. The tips are laser-etched to deliver maximum grip on hardware, the company says.
Made with high-strength, boron-infused steel for increased hardness, the screwdrivers are built to withstand the demands of the job site and provide long tool life. For challenging fastening applications, select screwdrivers include a wrench-ready bolster for added torque. A knurled shank allows for precision control during fine-tune fastening. The screwdrivers are easily identified with tip size markings, including Phillips, cabinet, ECX, slotted, and square. These screwdrivers are available individually and in a 4- and 6-piece set.        
"Milwaukee Tool is dedicated to bringing best-in-class, innovative, solutions to our users," says Adam Moscherosch, group product manager for Hand Tools.
"We take pride in conducting countless hours of field research with our users, understanding their pain points with current solutions, their needs, and their applications. For pliers, we uncovered the importance of easy cuts, durability, and a smooth open and close," Moscherosch says. "We saw the frustrations with inconsistent fit in fasteners with screwdriver tips. We brought these frustrations to our engineers and then continued to include users in the product development process until our solutions fit their needs, applications and demands of the jobsite."