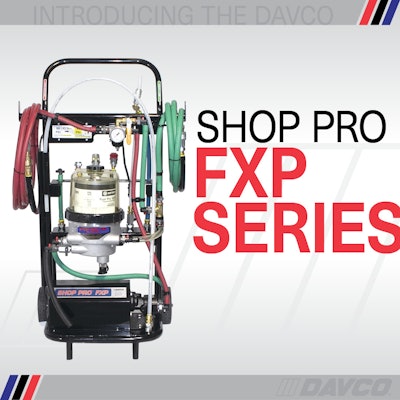 DAVCO Technology has launched the Shop Pro FXP 95 – the latest version of its well-known Shop Pro product, now redesigned with the needs of modern fleets in mind.
"Today's fleets want to work smarter, better, and faster," says Joe Schaffer, director of engineering, DAVCO. "The new Shop Pro FXP Series takes a holistic approach in helping fleets achieve this goal. First, by enhancing the quality of the equipment itself, and second by improving the ease-of-use for technicians in the field."
DAVCO says Shop Pro FXP products use the same three-layer filtration technology that is utilized in DAVCO's newest Fuel Pro models providing better filtering and removal of contaminated fuel, sediment, and water, when transferring fuel or cleaning fuel tanks. The three-layer technology strips water from outside the media with two inside stripping operations, including a coalescent layer and a hydrophobic layer. This ensures no water will pass thru the filter, even ultra-low sulfur and biodiesel, which are difficult to separate, the company says.
In addition to the improved performance of the product, the Shop Pro FXP is also 44 lb., lighter and 15 percent more compact than the previous version. It's in these features that DAVCO's creative approach to uptime shines through, the company adds.
"When fleets think of uptime, they often think of preventative maintenance through telematics and other monitoring devices," says Schaffer. "While this is a key component of uptime, simplifying operations related to required manual maintenance is critical to getting diesel trucks back on the road faster."