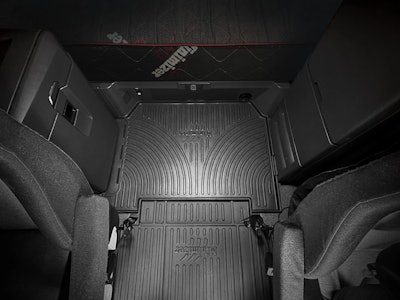 High Bar Brands is expanding its Minimizer line of custom molded floor mats by offering a mat for the sleeper area of the cab.
"The original request for this product came from our customers and gathered steam on social media," says High Bar Brands Product Development Director Chandler Nault. "It's a great example of what a critical role our customers play in HBB's development process."
According to Nault, the first sleeper floor mats are designed for Freightliner trucks, but customers can expect additional part numbers for other trucks in the future.
"The early demand for these sleeper mats has been very strong," he says. "I think it's safe to say we will be looking closely at how to expand this product line in the future."
Minimizer says its floor mats are laser-measured and feature a raised edge, preventing materials from escaping the mat.
"A lot of our OTR drivers like to bring their pets along for the ride," adds Ryan Shepherd, High Bar Brands design lead. "Now they can do so without worrying about accidents. The tray design will contain the mess for an easier cleanup."
To see which make/model/year designs fit the new Minimizer sleeper mats, visit the the company's website.