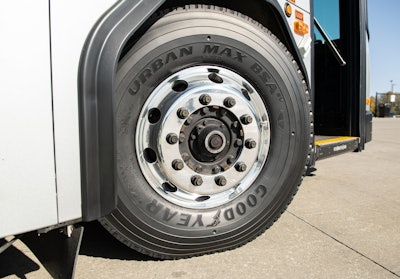 Goodyear released a new tire for electric buses and transit fleets.
The Urban Max BSA was designed in partnership with GILLIG, a leading manufacturer of American-built heavy-duty transit buses. It is the first Goodyear tire engineered specifically with low rolling resistance for EV transit and metro buses to help extend range and handle an increased load capacity.
[RELATED: Goodyear launches EV-ready regional tire]
The tire has a capacity of 10,200 pounds, load range L, to allow for the increased weight of EV battery packs.
"The development of this innovative product for GILLIG's battery electric bus was forged from a long-standing partnership between two companies that are dedicated to driving smart, sustainable innovation in the transportation industry," says Tom Lippello, senior director of commercial marketing for Goodyear North America. "Our partnership with GILLIG leveraged the talent and expertise of both companies to develop an incredibly tough tire that could drive the next generation of battery electric buses. Goodyear is proud to bring the North American transit industry the first 10,200-pound load-carrying capacity bus tire to support the increased battery weight required for battery electric fleets."
Goodyear's new tire also features a new tread design that maintains 3PMSF traction, an enhanced four-belt package to help carry the increased weight, a low-rolling resistance compound to help with energy efficiency, and mets GHG Phase 2 compliance for metro buses.