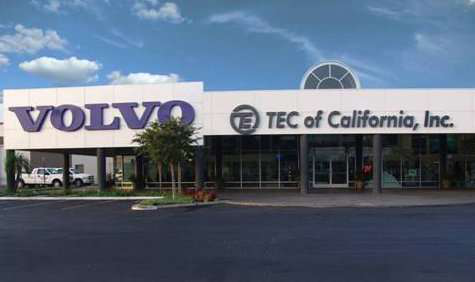 Volvo Trucks announces its dealer network in the Western United States has grown by nearly 15 percent since January 2010, with nearly 80 new service bays and 135 Volvo-certified technicians operating in the region.
"The Volvo ownership experience is about a lot more than just a great truck, so we're proud to see our dealer network continuing to step up and expand their support capabilities for customers from coast to coast," says Terry Billings, vice president of U.S. sales for Volvo.
Leading the charge in the West is Portland-based TEC Equipment, which Volvo says operates 24 facilities in 18 markets. David A. Thompson , TEC Equipment president and CEO, says his dealerships are dedicated to their customers along the I-5 corridor, so they continue to add technicians and master technicians, grow their parts inventory, increase available service bays and expand location hours.
"Our capital and real property investments will approach $94 million upon completion of this next growth stage," says Thompson. "We have made and will continue to make investments in technicians, equipment and facilities, which enhance our ability to take care of our growing customer base, offering seamless service along the I-5 corridor — stretching from Washington into Oregon, through most of California and all of Nevada."
Volvo says TEC's recently constructed La Mirada location in southern Los Angeles offers 45 service bays staffed by 37 technicians, five of which are Volvo master technicians. The 53,000 sq.-ft. facility includes a 14,000 sq.-ft. warehouse featuring more than $5 million in parts inventory, and Volvo says TEC's former facility, located a few blocks from La Mirada, is now a dedicated truck body and paint shop.
Volvo says TEC's latest investments also include a newly constructed parts facility in Sylmar, Calif., and several projects that are underway or nearing completion. The projects include two 19,000 sq.-ft. locations in Fontana, Calif., which will house body shop, leasing and repair facilities. The Fontana dealership also is said to be in the process of constructing a new 64,000 sq.-ft. full-service facility adjacent to the existing store, adding 38 additional bays and  retail parts and sales capacity.
In Battle Mountain, Nev., Volvo says a new 13,000 sq.-ft. parts and service center located next to the Flying J travel plaza on I-80, is about 50 percent complete. A new 16,000 sq.-ft. body shop at the Columbia Boulevard location in Portland will open in December 2012. TEC also will open a new 54,000 sq.-ft. auto carrier sales and service center and all-make parts center in Portland during the second half of 2013, Volvo says.