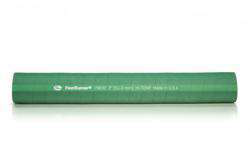 Gates Corporation this week introduced a new high-temperature, peroxide-cured EPDM coolant hose for heavy-duty applications, including trucks, buses, and off-road equipment. The Gates FleetRunner Hi-Temp Straight Coolant Hose is a high-temperature, high-performance, high-mileage alternative to silicone or sulphur-cured coolant hose.
Due to escalating emission standards, newer heavy-duty vehicles are manufactured with smaller engine compartments, and more emissions equipment and engine accessories, resulting in exceedingly high under hood temperatures. These vehicles require coolant hose that can withstand the low engine airflow and high-heat conditions. The hose has a temperature rating of -40 degrees to 300 degrees with a working pressure up to 50 percent higher than typical silicone coolant hose.
Gates FleetRunner Hi-Temp Straight Coolant Hose is available in three-foot lengths and will be showcased at the HDAW13 tradeshow.