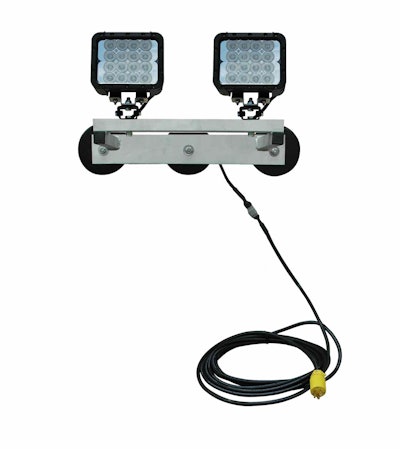 Larson Electronics has released a compact LED work light designed to provide high-power illumination and versatile mounting with dual LED lamps and three high-strength magnetic mounting pads.
Larson says the WAL-M-2X48LED-120 Magnetic Mount LED Work Light produces more than 5,000 lumens of light output, yet is small and light enough to be easily attached to any metallic surface that will accept a magnet.
"The WAL-M-2X48LED LED work light is constructed with an aluminum magnetic mount consisting of 600 lb. gripping force, making it both portable and easily set up on any ferrous metallic surface," says Rob Bresnahan of Larson Electronics. "Once mounted above, below or behind the operator, the high-output LED light heads can be independently adjusted horizontally or vertically and will illuminate the work space with a bright white flood beam."
Larson says the light comes with three 200 lb. grip magnetic pads, a 25 ft. long SOOW cord and a heavy-duty straight blade plug. The LED lamps on this work light produce a combined total of 5,760 lumens of light output, the company says.