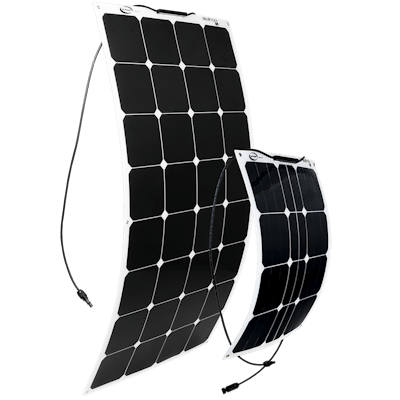 Go Power has unveiled its new Solar Flex solar panels.
The thin, flexible, ultra-high-efficiency Solar Flex GP-FLEX series panels are the breakthrough power generation component of the industry's first practical solar-based mobile power and battery regeneration system, the company says.
Solar Flex panels use high-efficiency monocrystalline cells to produce more power per square foot than any other flexible panel on the market. Solar Flex panels require no mounting brackets or framework, and at just three millimeters thick, the panels can be contoured to mount almost anywhere on a vehicle. Go Power says the slender panels are aerodynamic and are engineered to be virtually indestructible.
"We use traditional Go Power inverter systems as standard equipment on a number of our mobile workshop capsules and fiberglass service bodies and have gained confidence in their system's capabilities," says Francois Boisvert, vice president engineering and new product development for Maranda Composite Truck Bodies. "We are looking forward to exploring a true no-idle power solution by running a pilot program using Go Power's new Solar Flex panels to reduce or eliminate idling."
A Go Power solar work truck power system can be configured to generate a battery-charging range of 1.7 amps per hour to 100+ amps per hour. Go Power says the system is comprehensive and includes: Solar Flex panels, a solar controller that prevents battery overcharging, a complete wire harness system, an EX1050 absorbed glass mat (AGM) deep-cycle battery bank, a Go Power pure sine or modified sine inverter, and heavy-duty AC power outlets that can be strategically located throughout the truck body and in aerial equipment.
The new Solar Flex panels come in convenient 30-, 100- and 200-watt power kits and can be paired with a wide range of Go Power inverters for a complete system, the company says.