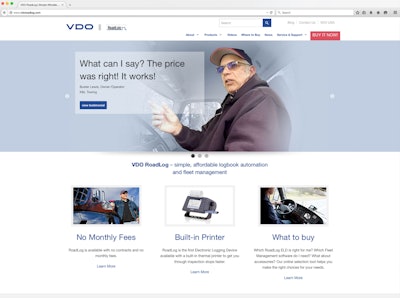 Continental Commercial Vehicles & Aftermarket has updated its VDO RoadLog website, which now features video testimonials from owner/operators and fleet managers who are using the RoadLog system in their operations.
The site also boasts a new Product Selection Tool that guides buyers on the right path to determine which VDO RoadLog ELD hardware, software and accessories best fit their operational needs.
According to Alexis Capelle, Continental Corporation ELD program manager, says the VDO RoadLog Selection Tool is designed to make sure every VDO RoadLog owner and user gets the ideal combination of device(s) and accessories suited to their unique situation.
"The tool lets users determine their needs through a series of simple questions," he says. "We developed this innovative tool to make sure our VDO RoadLog users are completely ready for the new regulations."
Jeff Waterstreet, Continental Corporation sales channel manager, says testimonial videos from actual fleet managers and owner/operators are an invaluable resource for potential customers.
"The ability to hear VDO RoadLog users talk about their first hand experiences gives the prospective customer great confidence in the product," he adds. "Even though they may not be familiar with electronic logs, the testimonials will help them envision how the switch to ELDs will affect their daily operations."