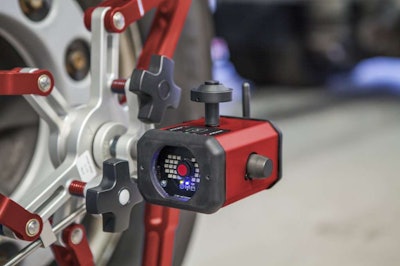 Josam Products introduces Cam-aligner, its new aftermarket heavy-duty wheel alignment product.
Josam Products says Cam-aligner uses camera-based technology to measure the essential and detailed wheel angles on all axles of heavy-duty vehicles with a superior degree of accuracy and speed to properly align each wheel. Josam says Cam-Aligner features new spider wheel adapters that fit all standard wheels and stand up to severe use with reduced weight compared to previous designs. The system can be used statically or as a rolling process with equal ease depending on customer needs.
Cam-aligner can be purchased as a stand-alone turn-key alignment system or as an augmentation to any existing Josam system bringing with it modern technology. The camera technology easily adapts to Josam's earlier generations of alignment equipment allowing customers to update their operations with minimal cost, the company says.