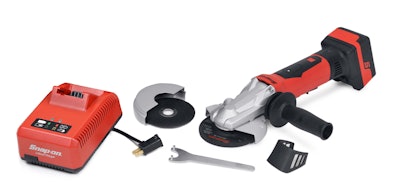 Snap-on has released its CTGR8855 18V Lithium Cordless Angle Grinder.
The company says the new grinder features a unique safety switch that cuts off power if the tool is dropped.
"We looked at a popular tool and wondered how we could enhance it for our customers. Our engineers came up with the CTGR8855," says Rodger Isetts, product manager for Snap-on. "Our grinder already defines power and is designed to handle various metal applications. The addition of a safety switch with automatic shut-off is an improvement we know technicians value."
Like its predecessor, the CTGR8855 features a 18V MonsterLithium 4.0 Ah rechargeable battery. It also has an anti-vibration handle and soft start trigger. Snap-on says an electronic speed stabilizer also keeps the grinder in control making it a reliable and precise. It also uses 4.5- and 5-in. grinder wheels.
The new grinder components include the tool, one battery, charger and tote bag. The tool body can also be purchased separately, Snap-on says.