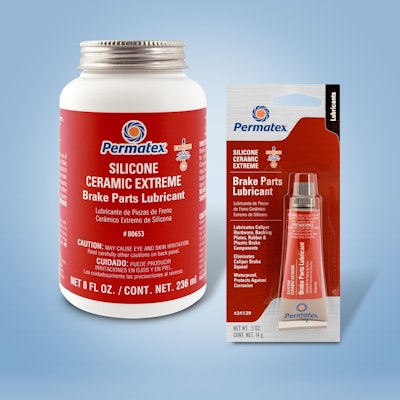 Permatex's new Silicone Ceramic Extreme Brake Parts Lubricant prevents disc brake squeal and chatter while protecting caliper pins, sleeves, bushings, and pistons against seizing and galling, the company says.
The lubricant features a 100 percent silicone, non-petroleum based formula fortified with a high concentration of high-temperature ceramic-solids to deliver excellent performance on all sliding surfaces. The new lubricant will not melt and can handle a wide temperature range from -50˚F to 3,000˚F, the company says.
Permatex says the lubricant lasts longer than ordinary caliper greases and disc brake quiet products. It is 100 percent compatible with internal/external brake rubber and plastic hardware, including ethylene-propylene rubber and metal components. The lubricant can be applied to a backing plate or shim as a noise suppressor, dampening the natural vibration frequencies that cause caliper brake squeal.
Key applications include sleeves, bushings, inboard and outboard pads, disc brake calipers, caliper pins, pistons, and abutment clips.