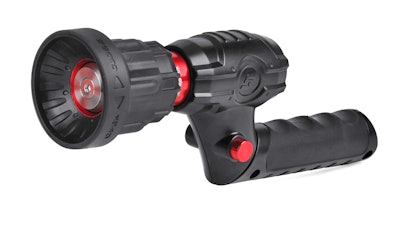 Snap-on has released a new hose nozzle and mini floodlight.
The Snap-on NOZZLEGRP is made with aircraft-grade aluminum, stainless steel, durable plastic and Santoprene rubber, and has a handle grip which can be locked in either a pistol or in-line position, the company says. A twist takes the nozzle's water flow from a delicate fan-style to a powerful jet pattern for tough shop grime. The design provides an uninterrupted direct flow path with an on/off lever for quick shut-off without changing the spray pattern, the company says.
The ECFD0102 900 lumen mini flood light is a water- and dust-resistant, pocket-sized flood light with up to six hours of run time for hard-to-reach locations. The magnet bracket, M8 hole for tripod support and 180° swivel base ensures visibility on the job, Snap-on says.