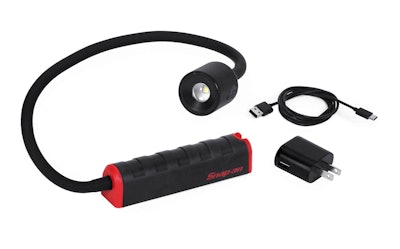 Snap-on has introduced two tools, a flexible work light and a hub scrubber.
Snap-on ECSPA032 LED 300 lumen articulating detail light produces up to 300 lumens supported by an 18-in. neck for various angle adjustments and maximum visibility in tight workspaces, the company says.
The over-mold design provides a comfortable grip, and when a job requires both hands, technicians can use the magnets at the base to adhere to metal surfaces. The rear clip is designed for looping the neck around and locking it into place.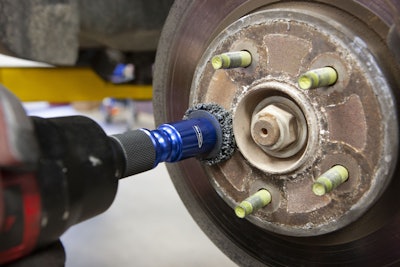 The company says the light has a four-hour run time at its highest setting, 20 hours at its lowest, and a variable brightness switch that includes a memory function. The ECSPA032 is IP65 resistant to water and dust infiltration and rechargeable via included USB cable.
The Blue-Point ATHUBSCRUB hub scrubber with pad is a preventative maintenance tool for technicians working on wheel service jobs or any job involving requiring wheel removal, Snap-on says. It removes rust, dirt and corrosion from studs, rotors, hubs and wheels. Its disposable abrasive pads can be used with any 1/2-in. drive impact wrench, the company says.