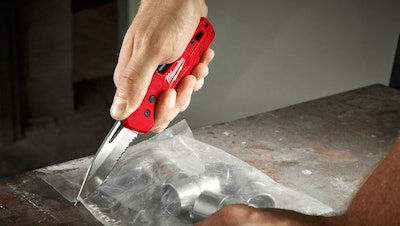 Milwaukee Tool has introduced the next generation of its FastBack knives.
The new knives come equipped with features users know and trust from the previous lines and incorporate new improvements, the company says.
Milwaukee says its utility knives have been enhanced with improved, durable wire belt clips for reduced pocket-tearing and lanyard holes for easy tethering. The quick-change function has been moved to the back and a metal extension has been added to prevent accidental blade removal. All FastBack utility knives come equipped with a blade holder designed for scoring.
Created to increase productivity and durability, the new FastBack pocket knives have numerous enhanced features. All FastBack knives will continue to have the popular press-and-flip design for fast, one-handed opening and stainless steel blades that stay sharp, and will now include an upgraded, more durable wire belt clip and a lanyard hole, the company says.
The FastBack spring-assisted knives continue to deliver faster activation with the aid of durable springs for easy, one-handed opening, Milwaukee says. Their partially-serrated, stainless steel blades stay sharp and have been upgraded with a secure, easy-to-operate slide lock.
The knives are backed by a limited lifetime warranty.