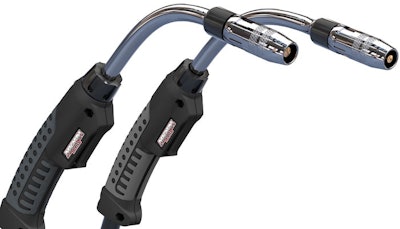 Lincoln Electric has announced its newest MIG semiautomatic welding gun line the company says delivers high performance and optimal comfort.
The Magnum Pro Curve HDE welding gun line delivers the highest duty cycle in its class and maximizes operator comfort with a new ergonomic design. The newest line-up includes four MIG welding guns: Magnum Pro Curve HDE 250A, 350A, 450A and 550A.
All models offered in the new Curve HDE line perform at 100 percent duty cycle, the company says. The robust level of performance makes this family of welding guns the ideal option for a number of industry segments, particularly heavy fabrication and general fabrication. These guns are also ideal for automotive/transport and structural manufacturing.
In addition to the gun itself, Lincoln Electric offers premium Magnum Pro expendables to maximize the gun line's performance. Magnum Pro expendables are designed with quality and durability in mind and using Magnum Pro expendables results in more time welding and less time wasted, Lincoln Electric says.
The Magnum Pro Curve HDE has a 360-degree rotatable gooseneck. Operators have the flexibility to rotate the gooseneck by loosening the bolt by hand. The gooseneck's 360-degree capability allows better positioning into a comfortable spot for any welding job. In addition, the newly designed over-molded handle supports the user in multiple ways: increased comfort, better grip, better maneuverability and reduced hand fatigue, the company says.