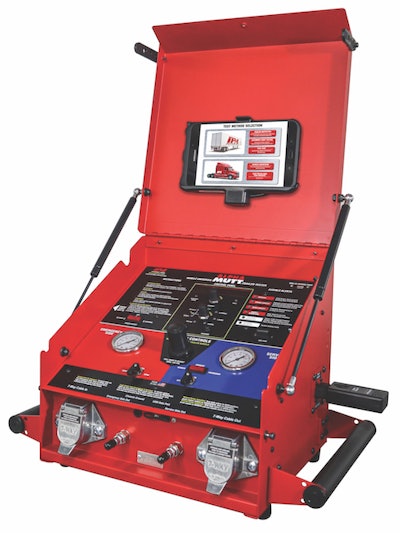 Innovative Products of America (IPA) introduces its new Alpha MUTT with ABS and Rugged Tablet, Service-Truck Edition (5705A-RT).
According to IPA, the company's real-time, wireless, diagnostic-troubleshooting software allows service professionals unparalleled access and control to all aspects of trailer service and repair with a military-grade, MIL-STD-810 certified, weather-proof tablet. The 5705A-RT's innovative and versatile design features flexible mounting options: hang from a truck, cart or wall, perfect for technicians performing service in all weather conditions, day and night.
Using the tool, IPA says users can test lighting, ABS and air brake circuits, and perform PMI and DOT inspections while walking around or from inside their vehicle.
"Every aspect of the Alpah Mutt's design has been thoroughly engineered from top to bottom to be the ultimate trailer testing and inspection system," says Ian Vinci, president, IPA. "Whether you're a service provider who wants to deliver faster and more professional inspections for your customers, or a fleet looking to reduce human error, paperwork and data entry while unifying inspections across the board, the Alpha Mutt can upgrade your shop to maximize its potential."