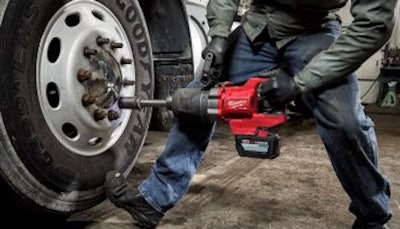 Milwaukee Tool has introduced a cordless 1-in. D-handle extended anvil high torque impact wrench for diesel technicians who perform commercial tire service and heavy equipment maintenance.
The M18 FUEL 1-in. D-Handle Extended Anvil High Torque Impact Wrench w/ One-Key delivers up to 2,000 ft-lb. of nut-busting torque and 1,900 ft-lb. of fastening torque. In addition to power, this tool delivers the run-time to accomplish a full day of work whether on the road or in the shop. Through One-Key, users can take advantage of Lug Nut Mode — a unique feature which, when enabled, prevents the risk of over-torqueing commercial lug nuts, Milwaukee says.
"Since its inception a little over 10 years ago, M18 cordless technology has continued to push 18V capability, allowing us to develop tools with the performance to rival some of the most powerful corded and pneumatic tools. The introduction of the world's most powerful cordless impact wrench is a monumental achievement for the M18 system and a huge step forward in productivity for heavy duty technicians," says Eric Rusch, Milwaukee Tool group product manager.
"Through our advanced M18 FUEL cordless technology, we're able to deliver a 1-in. D-handle solution that will become the go-to tool for both in-shop and for road service due to its ability to provide greater productivity, portability and lower cost of ownership than pneumatic," Rusch says.
The M18 FUEL 1-in. D-Handle Extended Anvil High Torque Impact Wrench combines the PowerState brushless motor, RedLink Plus intelligence and RedLithium battery pack.
The PowerState brushless motor packs more torque for removing rusted and over-torqued commercial lug nuts, while RedLink Plus Intelligence ensures maximum performance and protects the tool against overloads, overheating and over-discharge. The M18 RedLithium Battery Pack ensures this tool provides more work per charge and more work over the life of the pack. When equipped with an M18 RedLithium high-output HD12.0 battery pack, the impact wrench has the run-time to remove and install up to 120 commercial lug nuts, the company says.
A four-mode Drive Control feature provides users the versatility to switch between modes to match the power and speed for the application. Lug Nut Mode, accessed through the One-Key app, delivers benefits that no pneumatic impact wrench can provide. Once enabled, it automatically shuts off the tool within the targeted torque range of 350-450 ft-lb. to prevent over-torqueing lug nuts which can lead to stripped threads and potential truck wheel offs on the road. Users should then follow up with a calibrated torque wrench and torque to their desired torque target. As an added benefit, One-Key also provides the ability to customize, track, and manage this impact wrench.
Additional features include:
A patented battery isolation system that manages high frequency vibrations, enabling movement that prevents internal battery damage and ensures a constant connection between the battery and tool when in use.
Tri-LEDs that deliver high definition lighting to increase workspace visibility with less shadows.
A removeable 360-degree and angle-adjustable side handle.
Milwaukee is committed to improving productivity by providing performance-driven and trade-focused solutions so users can perform an entire day's work on one battery system. The new M18 FUEL 1-in. D-Handle Extended Anvil Impact Wrench is fully compatible with the entire M18 line.