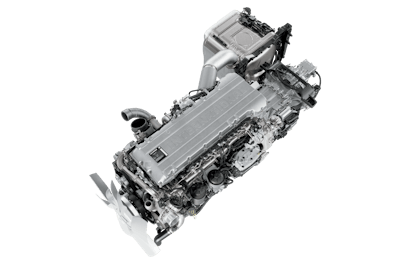 Navistar announced Monday during the American Trucking Associations' (ATA) Management Conference & Exhibition in San Diego that its International dealer network is prepared to support customers with comprehensive ownership solutions for the International S13 Integrated Powertrain.
Navistar says its comprehensive ownership solutions will include dealer integrated software, built-in service products, repair maintenance contracts and preventive maintenance programs to ensure customers achieve maximum uptime.
[RELATED: Navistar introduces global integrated powertrain]
"As we prepare for the market introduction of the S13 Integrated Powertrain, our dealer network is committed to the investments necessary to ensure not only a successful sale of the product but comprehensive service and support throughout the operation of this new powertrain," says Göran Nyberg, executive vice president, Commercial Operations. "Our ambition is to create the most value from the products and services International offers to the marketplace."
International on-highway models specified with the S13 Integrated Powertrain will come equipped for five years with the industry's most comprehensive set of standard connected vehicle solutions, including:
OnCommand Connection Advanced Remote Diagnostics, with vehicle support through fault code prioritization
Premium Intelligent Fleet Care reports such as Advanced Fuel Analytics and Predictive Fleet Health Monitoring
Over-the-air updates for approved calibration and programmable parameters to engine and transmission software
Gateway integrations that enable seamless access to third-party fleet management and compliance providers without the need for additional telematics hardware
A subscription to International 360, Navistar's all-makes service communication tool designed to accelerate the repair process and streamline dealer communications.
Navistar says OnCommand Connection uses data from a vehicle to continuously improve parts stocking at dealer locations. Focused on maximizing customer uptime, dealers will have the top maintenance and critical parts for the S13 Integrated Powertrain stocked at key locations nationwide when the powertrain enters full production. Navistar will then continue to optimize parts stocking on dealer shelves by leveraging machine learning algorithms, the company says.
Additionally, Navistar says International LT or RH Series models specified with the S13 Engine will include a two-year, unlimited mileage base engine warranty, and a five-year or 500,000 miles warranty for major engine components. The T14 Transmission also will have clutch coverage for three years or 350,000 miles and power take-off coverage for five years or 750,000 miles.
Developed over five years through global collaboration with the Traton Group, Navistar says its S13 Integrated Powertrain will provide superior operating economy, stellar performance, and simplicity and serviceability to the North American commercial vehicle market. The S13 Integrated Powertrain continues to undergo extensive testing to ensure proper validation for the North American market, with more than 4 million road miles and over 50,000 dyno hours completed, Navistar adds.