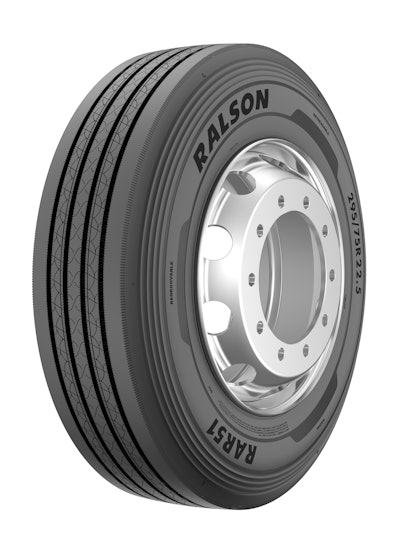 Tire manufacturer Ralson said it plans to enter the U.S. commercial tire market with a medium- and heavy-duty truck tire manufacturing facility. Jim Mayfield, who's held leadership roles at Giti, Kumho and Toyo, has been named Executive Vice President of Ralson Tire North America, Inc., and the U.S. office for Ralson is located in Franklin, Tennessee.
Based in India, Ralson is one of the top 5 bicycle tire producers worldwide. The company began production of automotive tires in 2000 and is now India's fastest growing automotive tire brand.
The company plans to supply two TBR brands to the U.S. The Ralson brand will be sold through large full-service commercial tire dealers who buy direct from the company. The Accelus brand will be sold through distributors to smaller tire dealers.
In the first phase, the product line for both brands will focus on regional, pickup and delivery, and waste haul/construction applications. Ralson and Accelus tires will be available for purchase early in the first quarter 2023.
Mayfield noted the company was excited to debut in the U.S., acknowledging the tire's "performance will be our best advertisement. Ralson has assembled a team of R&D engineers and rubber technologists previously responsible for some of the industry's most renowned commercial tire tread patterns," he said. "They have developed tread patterns and casing designs ideally suited to operate efficiently on America's highways and roads."
Ralson CEO Manjul Pahwa said his company seeks to deliver fleets and owner-operators with TBR tires "that deliver outstanding performance and a low total cost of ownership to help them thrive in the ultra-competitive U.S. trucking industry,."
The Ralson product offering includes the RAR51 all-position tire, available in seven sizes; the Ralson RAC55 (available in 315/80R22.5), designed for waste haul and construction applications; the Accelus AR91, an all-position radial available in seven sizes; and the Accelus DR92, a closed shoulder drive tire available in four sizes.