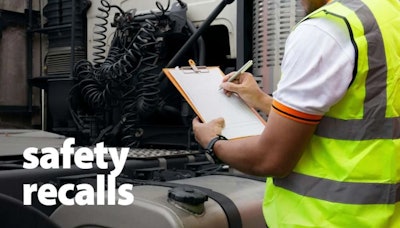 The following safety recalls were issued Monday by the National Highway Traffic Safety Administration (NHTSA):
Micro Bird is recalling certain 2013-2021 G5 transit buses. The fold-away seat, adjacent to a side emergency exit, may obstruct access to the emergency exit release handle and instruction label. As such, these vehicles fail to comply with the requirements of Federal Motor Vehicle Safety Standard (FMVSS) number 217, "Bus Emergency Exits and Window Retention and Release." Occupants may have to unfold the seat to access the exit handle and instructions, delaying an emergency evacuation and increasing the risk of injury. NHTSA says potentially 75 units are affected by the recall.
Oshkosh Corporation is recalling certain 2019-2022 S-Series vehicles. The fuel tubes between the fuel rail and the injector for cylinders 4, 5 and 6 may be susceptible to cracking, resulting in a high pressure fuel leak. A high pressure fuel leak in the presence of an ignition source may increase the risk of a fire. NHTSA says potentially 1,687 units are affected by the recall.
Paccar is recalling certain 2016-2022 Peterbilt 567, 579, 2021-2022 Peterbilt 536, 2017-2021 Kenworth T880, 2016-2022 Kenworth T680, 2018-2020 Kenworth T440, 2020 Kenworth T270, and 2021 Kenworth T280 vehicles. The methane detection system will not function if the system loses power. The operator may be unaware of a system malfunction or the presence of excessive methane levels, increasing the risk of injury or fire. NHTSA says potentially 1,107 units are affected by the recall.