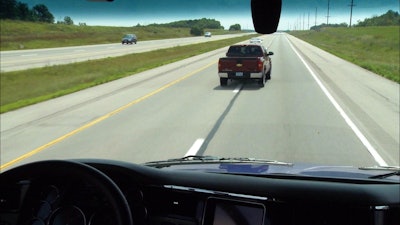 Windshield-mounted video cameras, integral to a suite of Bendix Commercial Vehicle Systems advanced safety technologies, will remain compliant with Federal Motor Carrier Safety Administration (FMCSA) rules for mounting placement, thanks to an exemption the agency recently made permanent.
FMCSA's rule change, effective May 6, 2022, amends the Federal Motor Carrier Safety Regulations (FMCSRs) to allow certain vehicle safety technology devices to be mounted slightly lower on the interior of commercial motor vehicle (CMV) windshields than was previously permitted. The rule had required devices to be mounted not more than 4 in., below the upper edge of the area swept by the windshield wipers. FMCSA modified the rule to increase that distance to 8.5 in. The change makes permanent a temporary exemption the agency granted previously, Bendix says.
In addition, units must be mounted not more than 7 in.., above the lower edge of the area swept by the wipers. Devices are still required to remain outside the driver's sight lines to the road, highway signs, and signals. And devices such as antennas or transponders that are mounted at the top of a windshield must be located outside the area swept by the windshield wipers. The amended rule also revises the definition of "vehicle safety technology" to add technologies that had been granted temporary exemptions previously.
As a result of the amended rule, the video cameras for the Bendix Wingman Fusion™ collision mitigation technology, AutoVue Lane Departure Warning (LDW) System by Bendix CVS, and SafetyDirect by Bendix CVS will remain compliant. They had already been allowed as part of the temporary exemption.
"This ruling marks another important step in the continuation of the commercial vehicle industry's highway safety efforts," says Fred Andersky, Bendix director, government and industry affairs. "The amendment will make it easier to implement advanced technologies that use multiple sensors – like Wingman Fusion – without fleets, drivers, and truck manufacturers having to worry about violating windshield clearance rules. It updates the regulation in favor of technology – not only for driver assistance systems but also for more automated driving systems that take advantage of additional sensors."
Andersky adds, "We must also keep top of mind that drivers are – and will remain – critically important, and maintaining their ability to see the road is essential. The ruling effectively balances the needs of both drivers and the technologies designed to assist them."
In its decision, the FMCSA notes it "believes that the rule has the potential to improve the safety of CMV operations. The Agency also finds that CMVs outfitted with vehicle safety technologies under current exemptions do not present an increased safety risk compared to other CMVs."