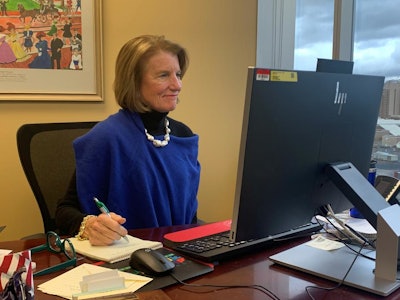 Office of Sen. Shelley Moore Capito, R-West Virginia
Twenty-seven U.S. senators signed a letter to EPA Administrator Michael S. Regan on Thursday, asking the agency to withdraw proposed emissions regulations.
[RELATED: Truck parking funding, weight flexibility bills advance in House]
The two suggested rules, "Multi-Pollutant Emissions Standards for Model Years 2027 and Later Light-Duty and Medium-Duty Vehicles" and "Greenhouse Gas Emissions Standards for Heavy-Duty Vehicles -- Phase 3," would mandate a transition to electric cars and trucks in the absence of Congressional direction, the letter states.
[RELATED: Senate votes to roll back EPA emissions standard on heavy trucks]
The senators allege this would violate the precedent set by the Supreme Court in West Virginia vs. Environmental Protection Agency in 2022. The court then ruled that the EPA cannot force wholesale change to "substantially restructure the American energy market" without explicit Congressional authorization.
[RELATED: REPAIR Act picks up cosponsors]
"The heavy-duty vehicle rule will require 40% of sales of zero-emission vehicles by 2032, up from a mere 0.1% globally for heavy-duty trucks and 4% globally for bus fleets," the letter says. "If finalized, these proposals will effectively require a wholesale conversion from powering vehicles with widely available liquid fuel to charging BEVs off our nation's electric grid. This is a major, multi-billion dollar, policy-driven technology transition mandate to be imposed on American consumers by your agency, without any semblance of the clear and direct statutory authority required by the ruling in West Virginia vs. EPA."
[RELATED: Diesel trucking and the poor, innocent children: The fight over EPA emissions regs]
Furthermore, the senators say, they are concerned about the ability of the American electric grid to support more electric vehicles. It cites an American Transportation Research Institute study that found that full-scale electrification of the transportation fleet would require generation and transmission capacity equal to more than 40% of the current electric demand.
Senators are also concerned about increasing regulation on electric power generation.
"Given this upcoming regulatory onslaught on the electric fleet and the chronic delays and uncertainty associated with federal and state permitting of new generation and transmission assets, it is unclear that current levels of electric service can be maintained -- much less expanded to replace the latent energy of liquid fuels with electricity to power BEVs," the letter states.
It goes on to cite the White House's estimate that 72% of goods in this country move by truck, and that heavy-duty electric vehicle charging infrastructure and deployment seems to be less of a priority than passenger and commercial vehicles.
"Efficient and reliable charging infrastructure for heavy-duty vehicles is essential for the sort of transition to electric trucks that the EPA has proposed," the letter says. "However, the technology is nowhere near ready to meet the demands necessary to keep our supply chain moving at the same rate it is today."
Because of heavy batteries and therefore decreased payloads, the letter also says that a shift to heavy-duty electric vehicles may increase the number of heavy-duty vehicles on the road. This could have implications for highway safety and traffic congestion, the letter says.
The EPA's proposals do not coordinate with the U.S. Department of Transportation on these and other issues, the letter says, with American infrastructure possibly being ill-equipped to handle the increased weight of electric vehicles.
"The DOT has a responsibility to research and ensure vehicle and roadway design and safety standards meet the challenges and demands of our future transportation system. This administration continues to push policies that will result in more BEVs on our roadways, but has failed to plan from a safety and infrastructure perspective," the etter says. "The sequence of proposals is misguided; vehicle and roadway design and safety standards should have been under development and deployed well before the EPA proposed a rule to force consumer adoption of heavier EVs."
The proposals also fail to consider minerals used to make battery electric vehicles.
"China currently dominates mining, extraction and battery manufacturing for EV batteries," the letter goes on. "Policies that expand our need for imports of critical mineral EV battery inputs, without expanding domestic mining and refining capacity, will only make the U.S. more reliant on our adversaries."
The letter is signed by 27 U.S. senators, led by Sen. Shelley Moore Capito. Capito, R-West Virginia, is the ranking member on the Senate Environment and Public Works Committee.
The other signatories are:
Sen. John Barrasso, R-Wyoming.
Sen. John Boozman, R-Arkansas.
Sen. Ted Budd, R-North Carolina.
Sen. Bill Cassidy, R-Louisiana.
Sen. John Cornyn, R-Texas.
Sen. Kevin Cramer, R-North Dakota.
Sen. Mike Crapo, R-Idaho.
Sen. Ted Cruz, R-Texas.
Sen. Steve Daines, R-Montana.
Sen. Deb Fischer, R-Nebraska.
Sen. Lindsey Graham, R-South Carolina.
Sen. Chuck Grassley, R-Iowa.
Sen. John Hoeven, R-North Daokta.
Sen. Cindy Hyde-Smith, R-Mississippi.
Sen. John Kennedy, R-Louisiana.
Sen. James Lankford, R-Oklahoma.
Sen. Mike Lee, R-Utah.
Sen. Cynthia Lummis, R-Wyoming.
Sen. Markwayne Mullin, R-Oklahoma.
Sen. Pete Ricketts, R-Nebraska.
Sen. Jim Risch, R-Idaho.
Sen. Mike Rounds, R-South Dakota.
Sen. Tim Scott, R-South Carolina.
Sen. Dan Sullivan, R-Alaska.
Sen. Thom Tillis, R-North Carolina.
Sen. Roger Wicker, R-Mississippi.