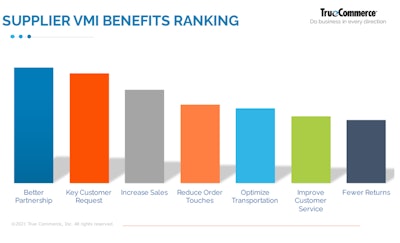 Vendor managed inventory (VMI) has been around for a while. Those who previously used VMI and those who never have, might want to do some research to see if it's right for them — especially during the parts crunch.
For the uninitiated, VMI "is a system where the supplier manages replenishment to the location based on mutually agreed to objectives and goals," says Amanda Baldwin, industry support manager for Datalliance's VMI solution in the industrial space. TrueCommerce's Datalliance is a third-party software provider that hosts the application and provides data and subject matter expert support.
Baldwin says the "really cool thing" about VMI is Datalliance gathers information from the supplier and the distributor and then Datalliance adds its own calculations or, as Baldwin says, the company's "secret sauce." Orders placed will follow the parameters agreed to by the supplier and the stocking location. "Obviously, the distributor's locations are quite capable of placing orders on their own, but what they can't do is see what's going on at the supplier [level]," she says.
Doug Bethea, vice president, supply chain solutions and general manager of the Datalliance division of TrueCommerce, adds, "With our solution we're creating this collaboration platform by which we're taking data from both the supplier and then we add in the data coming from the distributor. We're taking the data into this hosted solution, and we do our magic — we run our model that produces these recommended replenishment orders."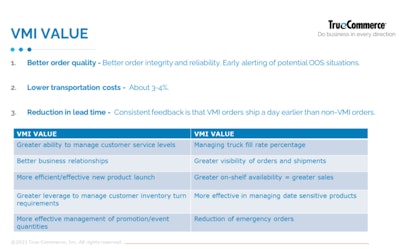 The case for VMI
Stone Truck Parts has used VMI for over a decade and says the service "has come around 180 degrees from 12 to 15 years ago," says Don Purcell, partner. "We use vendor managed inventory and Electronic Data Interchange (EDI) with several key manufacturers. We use VMI and we review the order and once we approve it, we send the order electronically back to them and then the order is shipped. It's electronic payment so it's a combo of VMI and EDI," he says.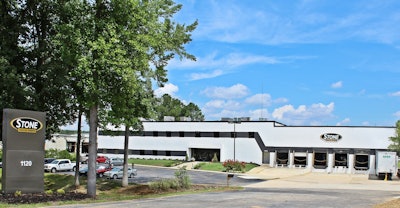 Purcell says VMI simplifies ordering because the service gives manufacturers access to Stone Truck Parts inventory movement, which helps them plan and fill orders better.
"If my sales ramp up and [VMI] sees I'm selling more units of a particular part number, [suppliers] pick up on it and will respond to it quicker. Right now, everyone is having inventory issues. For some of the manufacturers we do VMI with and our fill rates are still questionable but not as bad some of the other ones reporting a drop in fill rates of 20 to 30 percent," Purcell says. He adds when the company got onboard with Karmak several years ago "they were really instrumental in working with manufacturers setting it up."
Six Robblees' jumped into VMI when it was the talk of the trucking industry years ago. "We looked at it as, 'Wow this could really help us save and improve on some efficiencies.' And it allows drop ships into our locations so we can save on handling it into a master warehouse; it goes straight into our branch-level warehouses," says President Andy Robblee.
"As distributors, we tend to really spend a lot of time micromanaging our inventories but with VMI you have to trust the system a little bit. In some cases I think it works, in others I think it falls short," Robblee adds.
Tim Grabow, vice president, Blaine Brothers family of companies, says there are benefits to VMI.
"Sometimes you're at that point in your business when you're not big enough and you're not small enough either so you may need that extra help," he says. "The opportunity is you get somebody that has the capability to track certain data points for your buy times, and that is a big help. For the right company, it makes sense."
For some, jury is still out on VMI
One way Six Robblees' says VMI falls short is it can miss out on the opportunities for C, D and E movers because the system is concentrating on those high-turn A and B parts and products.
"It's great we have A and B items, but you don't have all the other stuff that doesn't turn as often. But when you have it, the customer says, 'I can go to Six Robblees' because I know they're going to have what I need.' Maybe we don't always have all they need, but at least we have a start to get them through the day or the week and the rest comes in later."
Robblee adds the company, outside of VMI, will order those C, D and E parts even if it doesn't make the most financial sense. "We like having that widget on the shelf because we have become known for stocking some of these oddball pieces of inventory."
Robblee says VMI would work better for Six Robbles' if the company paid more attention to it.
"It's a cost-benefit analysis for us; how much do we want to throw into it to get more out of it? Right now, our resources are put in other areas. I think we could improve our VMI process, but I don't know how much improvement we get versus the cost of what it's going to take. We're probably getting 80 to 90 percent of what VMI does and that's great, but there's an extra 10 to 20 percent of improvement. Is it worth the cost to get there? I don't know," says Robblee.
VMI challenges in running the program are data, people and ever-changing supply chain constraints. If those can be quantified, Datalliance can use that data in the planning.
"If you are completely blind to what's going on in your supply chain, then VMI will struggle. We must have the data, people and business rules for VMI to be successful. Those are the three biggest channels," Baldwin says.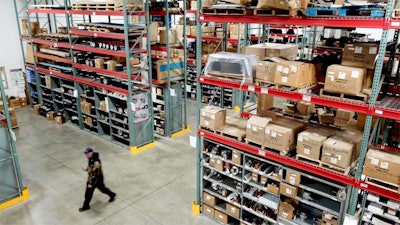 Some distributors also question if the solution can really outperform its own internal expertise. Grabow says Blaine Brothers knows its buying habits and those of their customers. The company says inventory is studied and tracked, and employees gain a great deal of knowledge over time.
"The skill and proficiency that our parts department has in-house is critical to our business and I have hesitation that getting other vendors involved would outweigh our in-house capabilities at this time. Companies need to decide if bringing vendors into their business is the right fit for where they are at with their business," Grabow says.
"There is nothing like being able to walk down the hall to our director of parts or director of purchasing and not have to call on the vendor and wait for them to get back to us," he adds.
VMI and the parts shortage
VMI can help with inventory ordering and communication with suppliers on the status of stock and delivery times, among other features, but has it helped — or can it help — companies during the parts shortage?
Baldwin says suppliers who are doing an effective job of communicating accurate lead times to VMI as they change weekly are doing a good job servicing their customers. It depends on the ability of the supplier to mine good information on plant production and material availability from its own business system and then feed it into the engine.
"If you cannot feed updated information into the engine, the engine can't help. We're there to synthesize the data from the supplier and the distributor," she says. "There is a lot of functionality the VMI engine can support but I have to have data to drive it."
Purcell says his top 10 vendor lines have had better fill rates during the last year due to VMI, which has enabled him to better manage his inventory.
Six Robblees' doesn't feel there was any difference between VMI and direct order. That said, Robblee adds that, in general, VMI is a good system.
"It's good technology and it's going to get even smarter. We're at the ground level here and we're learning things and the learning curve becomes less steep the deeper we go in," Robblee says. "I feel it's smart business to be aware of the technology and to continue with it in some fashion because I believe the potential, in theory, is huge and we are seeing it in practice in some ways already. But I don't want to say it's the cure-all either."