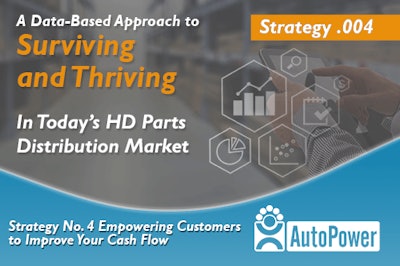 Today, AutoPower released Number 4 in a series of Strategy Briefs targeted to heavy-duty distributors who face tough challenges in the current market. This latest brief details how integrating Billfire's cloud-based VALET A/R module into the AutoPower Financial Accounting Solution can make collections simpler and more cost-effective for distributors while also saving money for their customers.
AutoPower President Mike Mallory points out that collections of accounts receivable tend to be costly and time-consuming when managed manually, and the same is true for the customer who has to process the payment.
"At a time when heavy-duty parts distributors are facing inflationary and competitive pressures, reducing the costs of essential but repetitive functions at both ends of the transaction can be an important step in improving business efficiency and customer satisfaction," he says.
[RELATED: AutoPower on turning technology from a burden to a competitive advantage]
Mallory says AutoPower now offers a "powerful click-to-pay payment option that enables distributors to improve cash flow, automate collections and reduce costs for both themselves and their customers. It provides an easy, affordable transition to the efficiency and convenience of digital A/R. The net effect: streamlined accounting processes, reduced costs and improved productivity for distributors and their customers."
According to AutoPower, the solution offers many Click2Pay convenience features, including instant payment reminders sent via email or text, easy access to invoice details, and elimination of "promise to pays," because customers can schedule a locked-in payment for a future date.
It also enables automated AR campaigns whereby users can set up events on a timeline that automatically monitor and collect from customers, automatically send Click2Pays before, on, or after invoice due dates, and customize the schedule for each customer, the company says.
The system's Resolution Center lets users view a complete history of all dispute communications, allows customers to submit disputes and short pays directly from Click2Pays, and provides instant alerts when short pays or disputes are created, the company adds.
According to Mallory, business benefits include improved cash flow from accelerated collections, reduced or eliminated costs for postage, paper invoices and paper statements; and eliminated labor costs associated with handling checks and manual payment entry.