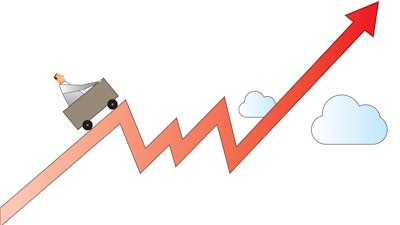 Most industries go through annual cycles — times when sales are slow and other times when they're flourishing. New truck sales have cycles, too, and dealers explain how they prepare and, ultimately, handle the rollercoaster of preparing for the boom and bust sales cycles.
"We try to take a pretty consistent approach. We know truck sales are cyclical, and our customers know truck sales are cyclical. What we try to do is provide a consistent level of service and solutions for our customers regardless of that cycle," says Jody Pollard, senior vice president of truck sales and aftermarket sales, Rush Enterprises.
Every day is different, says Chris Marsh, sales director, Advantage Truck Group (ATG). "Keeping in touch with customers and the industries your customers work in helps to keep the 'roller coaster' feel of things to a minimum," he says.
Sales cycles
Brisk sales depend on a model year change, which happens in February or March; and when companies and large fleets get their budgets finalized from a procurement standpoint. Conversely, there's a seasonal downturn in November/December because of the number of working days and holidays, Pollard says.
"In a typical year there is some fluctuation, but this year is not your typical year," Pollard adds.
Marsh says the sales highs and lows often are predicated by the customers' business.
"Most of our vocational customers want their equipment towards the end of the first quarter or the beginning of the second quarter as that is when their season gets busy. For example, municipal customers' … budgets are approved in or around April/May," he says.
After those city budgets are approved, they are ready to order so they have their equipment ready before winter. The rest of our customers don't necessarily have a time of year that they buy; it is more driven on need or trade cycle," Marsh says.
Trailer dealers are challenged by order cycles too.
At Royal Truck & Trailer, the highest volume is usually in spring when road construction starts. The dealer is approximately 30 percent busier in the spring. A low period is typically around Christmas time through the end of January before people start ramping back up for the spring season, says Kevin Igielski, vice president, equipment sales, Royal Truck & Trailer.
"I would say each year is fairly similar in that regard. Even though these are our typical cycles, there is always a wild card such as an upcoming election, economic changes or maybe even a pandemic to really throw you off," he says.
Preparing for the ups and downs
The annual cycle for the sale of new heavy equipment is familiar to most, if not all, dealers and many have prepared for the industries ups and downs.
ATG prepares for vocational demand by trying to get the cab and chassis on order in the late summer or early fall, depending on OEM build schedules. Once chassis are ordered the company can align with body companies so that it has completed units ready to sell when business picks up, Marsh says.
Whether a dealership's sales start to slow down or are entering a typical season, it's important dealers right size their organization with respect to inventory levels, Pollard says. And when sales are slow, the sales team stays vigilant by keeping in touch with existing customers as well as working on their "conquest skills," he adds.
By conquest skills, the sales representatives "really need to start working on their next customer in respect to what their buying tendencies are. We use customer management systems to make sure they know what those buying cycles are for their customers that just may have not bought within the last year or two," Pollard says.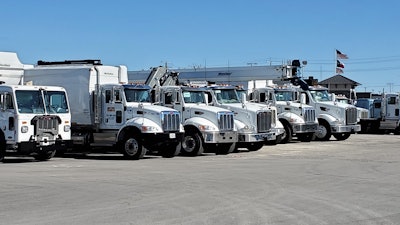 Sometimes there is no way to prepare for when the bottom drops out of the market — for trucks and trailers. Companies have to be quick to react and, if they see the market start to soften, have a sale and reduce inventory or transfer [heavy equipment] to dealers in other markets where the product might be selling well, Igielski suggests.
"There is a delicate balance of having not enough inventory and having too much. For example, right now we are sold out of dry vans through the end of this year and will not get any stock until next year. On these types of items to you have to prioritize how to sell them and try to keep everyone happy, which is not an easy task," he says.
When sales are brisk it is important to keep in mind it won't last forever, Marsh says. "Regardless of how busy things are you still need to take the time to keep in touch with all your customers and not stop seeking new ones," he says.
Pollard says Rush is a one source solution organization for ordering trucks and making sure uptime is maximized through timely new truck delivery. In order to provide that streamlined solution, Rush has assets and tools for that. For example, Rush has a group called Custom Vehicle Solutions (CVS).
"We have to make sure those CVS folks are equipped and staffed appropriately in order to handle the influx of orders and keeping on time regarding our delivery schedules," Pollard says. "It's not a perfect science but when we know we're in a peak volume of sales, we have to make sure our support [staff] is very much in step downstream through the delivery of our trucks as well as being able to support them from an aftermarket standpoint by our hours of operation for our customers and our delivery personnel for our parts customers. It is a full court press to not just be busy selling trucks, but to also support the sale of the truck with our service and parts support."
Slow cycles … or worse
Dealers also must determine if heavy equipment sales are lackluster simply because the cycles are a little bit slower or, even worse, perhaps the market is tanking.
Dealerships feel they are prepared to compensate for slow sales when they have to. One of the ways shared by several dealers is to sell a variety of trucks in an effort to offer new heavy equipment to various vocations that might be interested in buying trucks outside of the traditional busy buying cycles.
"The key to minimizing the seasonality piece in truck sales is to work with customers from all different industries. If you do this well you can minimize the impact to your business," Marsh says.
Pollard agrees.
"The good thing about Rush is we have a very deep portfolio of market segments. We have a good over the road business, good vocational customers, great medium-duty and leasing organizations. That's one of the good things we're blessed with as an organization is that you have a portfolio you can leverage to keep things stable," he says.