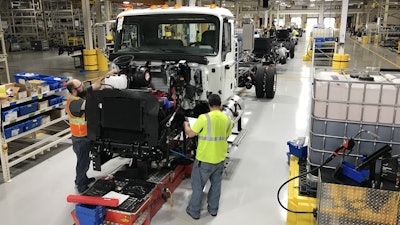 While vehicle demand remains healthy, the supply of new vehicles remains constrained. Since the pandemic, supply chain issues and material shortages have prevented truck makers from meeting dealer and fleet demand for new vehicles.
"Demand for trucks remains exceptionally strong," says David Carson, senior vice president sales and marketing, Daimler Truck North America (DTNA), "but supply chain bottlenecks and component scarcity continue to affect our manufacturing."
While no one knows exactly when these issues will be resolved, fleets are anxious to start receiving all the trucks they've ordered. This year both dealers and fleets were placed on allocation and received a portion — but rarely all — of the vehicles they ordered. At some point during the year order boards were closed and OEMs stopped taking orders. In addition, 2023 order boards were late in opening. But John Randall, senior vice president of Mack Truck Sales and Commercial Operations, says, Mack is in close contact with our dealers and customers, and we are currently accepting orders for calendar year 2023."
He explains customers and dealers have already started their 2023 calendar year planning and, "as a result, we are actively accepting orders for 2023." Randall did say the "planning process has become much more robust during the past few years" and the company is working closely with its dealers and customers "to meet all their transportation needs in the current constrained environment."
Volvo Trucks North America says its 2023 order board is open for parts of 2023.
[RELATED: What OEMs are saying about their order boards]
"It's important for our dealers to have an accurate understanding of the number of new trucks they'll be able to offer their customers so that when a customer is ready to place an order the dealer will be able to facilitate that," says Magnus Koeck, vice president of strategy, marketing and brand management, Volvo Trucks North America.
Koeck explains allotments (allocations) enable the company to "secure fair and balanced access to new trucks so dealers can plan accordingly with their customers." He adds it is important for dealers to known when they can place orders and what volume of trucks they will be able to provide to their customers and on what timeline. "Allotments are determined in close cooperation with our regional sales force and our dealers," he says.
He explains Volvo communicates directly and regularly with its dealers to give them accurate and actual status of the trucks they have ordered. "Keeping them up to date with the most accurate information possible allows them to better serve their customers and plan in the best manner possible."
At DTNA, Carson says the OEM is continuing to work its way through supply chain issues and to reduce its backlog as quickly as possible. "We are keenly aware of the need for new equipment and — along with our dealer partners — are here to help support our customers."
While OEM order boards have opened, it is likely truck makers will continue to control the number of truck orders they accept.
Dealers need to stay in close contact with their OEM representatives to ensure they have the latest information on vehicle availability and expected delivery of new vehicle orders.