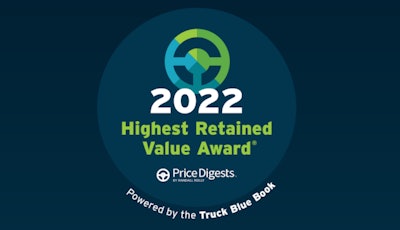 Price Digests, a provider of vehicle values and specs data for more than 100 years, has announced the finalists for its Fourth Annual Price Digests Highest Retained Value Awards (HRVA), the only industry awards program that leverages third-party, unbiased, data-driven residual values of commercial trucks to recognize those that best hold their value. Price Digests is powered by The Truck Blue Book.
Price Digests, a Randall Reilly sister company of CCJ and TPS, presents its HRVA in nine categories honoring 2022 model year Class 3-8 commercial trucks, ranging from light to heavy-duty models. The finalists represent the model series in each category projected to retain the highest percentage of their original value during the next five years.
"We look at the most popular commercial trucks and vans on the road and use proprietary algorithms to identify those that are expected to retain the most value over the next five years," said Kurt Wilson, Price Digests manager of data analytics.
Winning trucks and vans will be announced Oct. 23 at the American Trucking Associations' Management Conference & Exhibition in San Diego.
The finalists this year are: