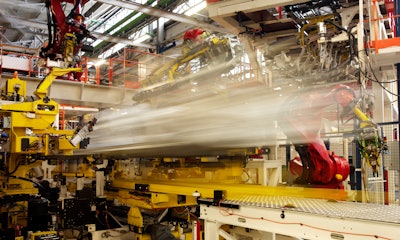 According to this quarter's issue of ACT Research's Trailer Components Report, released last week, North American trailer OEMs are rapidly filling available 2022 production slots, with both dry van and reefer build-to-backlog stretching deep into December.
"Overall, we expect orders and production to travel in lockstep until 2023 orderboards officially open," says Frank Maly, director, CV Transportation Analysis and Research, ACT Research. "We expect backlog to contract as we move through late spring and early summer, but the yet-to-be-determined date for opening the 2023 orderboards will reverse the backlog contraction and likely quickly extend the backlog well into next year."
Maly goes on to say that "while OEMs continue to negotiate with fleets, that effort is building a large group of staged/planned orders that are not yet officially posted to the backlog. Once OEMs gain sufficient confidence in their supply chain and labor availability to open 2023 production slots, expect a surge of orders to be 'officially' accepted."
Today, Maly says OEM are closely controlling order acceptance rates. He says their efforts border on order allocation, with discussions indicating that larger fleets might be getting better reception by the OEMs than the small and medium fleets and dealers.
"Component and material challenges are certainly a driving force, as are staffing issues, but less so than in the previous quarter. There was some supply chain relief that occurred at the end of the first quarter. While we would expect that to continue during the next few quarters, progress will still likely be a bit choppy," he says.