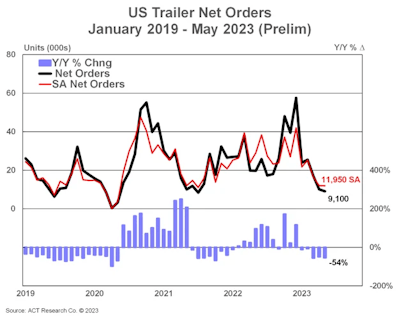 ACT Research reported Thursday preliminary trailer orders for May of 9,100 units (11,950 seasonally adjusted). The company says that total is 10% below April and 54% below May 2023.
"Seasonal expectations call for orders to continue their pull back in the coming months, particularly given near record-level order backlogs, as trailer manufacturers normally spend mid-year working down the backlog ahead of the next year's orderboard opening in the fall," says Jennifer McNealy, director, CV market research and publications at ACT Research.
"Albeit against strong comparisons, demand is softening. In addition to the seasonally-anticipated slowing in orders, we're starting to see increased and broad-based cancellations. That said, backlogs remain robust, so many fleets needing trailers remain in queue for orders already placed, with relative backlog measurements for most trailer categories still near the top of their target ranges."
McNealy also estimates the current backlog should decrease by about 19,000 units in May to 194,000 total units when final data is reported later this month. "With orders being preliminary and the build number a projection, there will be some variability in reported backlogs when final data are collected," she adds.