The following is Part 4 of a 12-part special report from Trucks, Parts, Service on the state of the used truck market.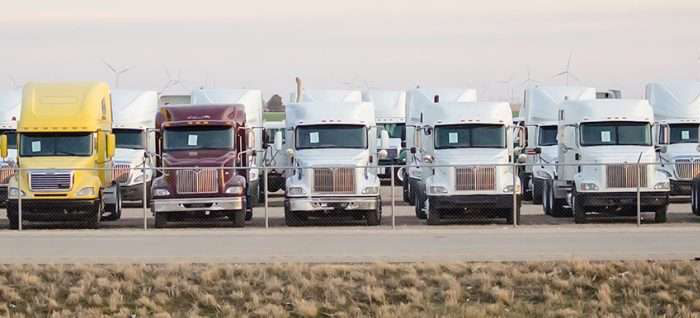 What does a customer see upon entering your property for the first time? Dealers might be surprised at how minor adjustments to lot configuration and the appearance of equipment can help increase your sales.
Prospective customers should have to pass through your inventory to reach your front door. This can be done by forcing a few simple turns or creating a long corridor flanked by vehicles. Don't create an elaborate maze but ensure prospects do not enter your building without noticing quality vehicles.
This prepares the customer to be receptive to your approach of selling value versus price, says George Papp, professional sales consultant and trainer for the Used Truck Association's "Selling for Success" seminars.
Trucks destined for premium lot placement should be detailed and expertly reconditioned, allowing them to become a value talking point.
Learn how to move your used trucks faster
With unsold used inventory depreciating at a rate of more than 2% monthly, efficient inventory turnover is a must for dealers. Download this eBook, "Sold! Best Practices for Moving Used Trucks," to access proven strategies for selling used trucks faster.
Another display option is to promote groups of sister trucks in one prominent position and have other, similar units not on display that can be sold as-is. These trucks sell well with educated buyers, such as fleet owners who have their own shop capable of reconditioning.
Trucks also should be regularly monitored once placed on a lot. Papp says if customers are regularly overlooking a truck, "nine times out of 10 there is a visual problem." Vehicles that sit for extended periods of time can be susceptible to issues, so it behooves dealers to reorganize regularly to provide customers new visuals and to ensure every truck is still ready to move.
On that note, dealers also can provide customers additional peace of mind by providing documentation that shows a truck's background.
Services such as RigDig Truck History Reports (sister company of Trucks, Parts, Service) offer in-depth information about a truck's operating history.
"By meshing a variety of data sources … RigDig helps dealers give truck buyers a level of confidence in making purchase decisions that's unprecedented," says Prescott Shibles, executive vice president and general manager, Equipment Division, Randall-Reilly.
Used truck warranties offer another reassuring sales tool when a customer shows interest.
"We can provide customers quite a bit of data indicating what breaks and what they are likely to need to repair and maintain on a potential purchase," says Wade Bontrager, president and CEO, National Truck Protection Co. "If you wouldn't buy a new truck without a warranty, why wouldn't you want one for a used truck?"
Engaged sales associates also go a long way toward increasing lot movement. A salesperson that recites a truck's online listing isn't adding anything to a customer's experience or  providing them anything they likely don't already know.
"Envision yourself going to a store to buy a product and the sales associate knows nothing about it nor do they ask any questions of why or how you plan on using this intended purchase," Papp says. "Is this who you want to purchase from? Or would you prefer to have a consultative approach in making your purchase?"
Finally, it's important to know when to cut bait. Even with thorough restoration, good placement and a knowledgeable sales staff, not every used truck is destined for a quick sale.
In those circumstances, dealers must be willing to explore alternatives, says Craig Kendall, specialty markets manager, The Pete Store.
"One old saying is 'The first loss is the best loss,'" he says. "When the market starts checking, you don't want to be stuck holding the bag. Sometimes it's best to wholesale, auction or as-is sell it and reinvest your money."