The following is Part 5 of a 12-part special report from Trucks, Parts, Service on the state of the used truck market.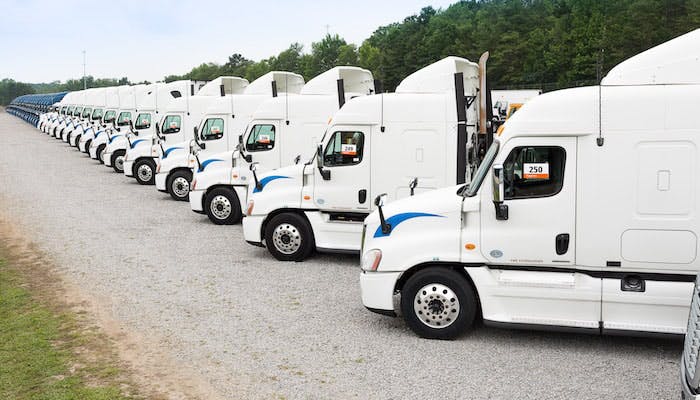 When inventory numbers become unmanageable, dealers can turn to auction companies to relieve their used truck surplus. Though they generally net lower prices than retail markets, auction houses provide many features to sellers to maximize sales of their equipment.
Turnover time
The biggest advantage to auctions is speed. Instead of turnover measured in months with no sure sign of ending, the auction process takes a matter of weeks.
A September 2019 survey by Trucks, Parts, Service (TPS) indicated 66 percent of used equipment sellers rely on auctions to move equipment due to the channel's "speed of disposal," while 68 percent also claimed auctions help move older equipment or units in less than optimal condition.
Learn how to move your used trucks faster
With unsold used inventory depreciating at a rate of more than 2% monthly, efficient inventory turnover is a must for dealers. Download this eBook, "Sold! Best Practices for Moving Used Trucks," to access proven strategies for selling used trucks faster.
While COVID-19 has temporarily slowed the pace of on-site sales, auction houses still offer a variety of online sales opportunities to turn equipment quickly.
"Auctions provide the fastest, most efficient and cost effective method of selling equipment," says Stacy Tracy, president, Taylor & Martin Auctioneers, though he adds auction companies shouldn't be viewed by sellers only as a last resort. "Auctions typically result in higher than wholesale value and, depending on the item, can bring greater [value] than retail."
Sellers have options
Some auction companies feature an abundance of online selling tools to supplement conventional onsite sales. These additional channels can reach much farther than a dealer's internal sales team or website. Ritchie Bros.
Chief Marketing Officer Matt Ackley says his company moves equipment through three sales channels: live auctions, weekly online auctions and its online e-marketplace.
The company offers different features within each channel, such as unreserved sales with no price floor where all items are sold to the highest bidder, reserve auctions in which sellers set a minimum price and "buy now," "make offer" and other specialty pricing features through its e-marketplace.
Additionally, Ackley says Ritchie Bros.' online asset management platform enables sellers to track equipment, request inspections, schedule service events and initiate steps toward a potential sale with a single mouse click.
Ackley says the platform is designed to make the equipment sales process as seamless and stress free as possible for the equipment seller.
Larger inventory attracts more customers
Using the same Internet resources used by savvy truck dealers, auction houses can draw the attention of huge groups of customers. With tens of thousands of trucks available for sale across the globe each day, auction houses run multifaceted marketing campaigns to target local and international buyers.
The global focus is helpful because it expands a truck's potential customer base, but it's the localized capabilities that are most essential. More than a third of equipment sellers polled by TPS said they choose their auction company first and foremost due to their geographic proximity.
Dealers want a partner who knows their market and knows how to get their equipment in front of the right buyers, says Tracy.
Auction companies are tireless promoters as well, using social media and targeted marketing campaigns to showcase available equipment for sale.
"At the end of the day, we are in the business of connecting buyers and sellers," Ackley says.
Expedited payments
Most used truck buyers are typically smaller fleets and owner-operators who sometimes require financial assistance. Most auction houses eliminate that risk for sellers by assuming responsibility for securing financial assistance and completing all transactions.
Tracy says Taylor & Martin guarantees payment to sellers within 10 banking days from a sale, less commission and expenses incurred. The company also directly works with buyers to complete transactions, meaning once an auctioneer howls "Sold!" sellers can wait comfortably to be paid for their equipment.
Tracy says both sides value the process.
"Buyers know everything will be sold at fair market value. Sellers know they won't have to deal with unsold equipment."
Ritchie Bros. also shoulders the responsibility of securing payment for equipment sold through its channels, Ackley says, and sellers receive payment within 21 days of a sale. The company's PurchaseFlex financing program also assists buyers in securing funding, which strengthens the customer base for sellers.