Average prices for Class 8 used trucks in the auction and retail markets were both higher last month as the market continues its second half rebound, J.D. Power announced Wednesday in its September 2020 Commercial Truck Guidelines industry report.
Beginning in the Class 8 auction space, J.D. Power reports similar volume month over month led to an across-the-board increase in price.
Average auction prices were as follows:
MY 2017: $41,509 average; $4,678 (12.7 percent) higher than July
MY 2016: $31,310 average; $1,770 (6.0 percent) higher than July
MY 2015: $26,695 average; $633 (2.4 percent) higher than July
MY 2014: $19,245 average; $122 (0.6 percent) lower than July
MY 2013: $19,228 average; $8,753 (83.6 percent) higher than July
Learn how to move your used trucks faster
With unsold used inventory depreciating at a rate of more than 2% monthly, efficient inventory turnover is a must for dealers. Download this eBook, "Sold! Best Practices for Moving Used Trucks," to access proven strategies for selling used trucks faster.
J.D. Power says 4- to 6-year-old trucks in its benchmark model averaged 7.7 percent more last month than July. And while pricing for the first eight months of 2020 is down 17.1 percent, it is up when compared directly to July and August of last year. The company says the latter of 2019 saw a notable decline in pricing, which means year-over-year comparisons will be easier going forward. And, thanks to this year's midsummer recovery, J.D. Power reports its benchmark truck now shows an average monthly price gain of 1.6 percent per month in 2020.
"Check writers continue to show up at auctions and dealerships ready to choose from a decreasing supply of used trucks," the company says.  "Anecdotal evidence suggests end users are currently responsible for the vast majority of aerodynamic sleeper tractors sold at the largest auctions. This group is always a major part of the auction environment, and in a recovering market, auctions are where end users go first to pounce on the most desirable iron."
J.D. Power adds it is not overly concerned about changes in the composition of auction buyers on our data. "We have always eliminated "grand slam" outliers from our averages, assuming they were end user bids. Auction pricing is still well below retail pricing for a given truck, apples-to-apples, so we still consider it a good proxy for a wholesale figure."
The company is equally optimistic about September and the final months of the year, which confirms messaging found in other corners of the used truck space about a potentially strong end to 2020 on the way.
"If economic conditions don't change dramatically, the supply of used trucks will continue to diminish and the freight markets will continue to stabilize. We still see more positive than negative pressure on used truck pricing," the company says.
Retail pricing also continued its climb in August, trending upward for the third straight month.
J.D. Power reports average sleeper tractor retailed in August was 68 months old, had 460,476 miles, and brought $42,090. Compared to July, this average sleeper was identical in age, had 9,727 (2.1 percent) fewer miles, and brought $2,408 (6.1 percent) more money. Compared to August 2019, this average sleeper was two months newer, had 17,981 (4.1 percent) more miles, and brought $12,600 (23.0 percent) less money, the company says.
Among trucks in the largest 2- to 5-year-old cohort, average pricing was as follows:
MY 2019: $91,889; $4,090 (4.7 percent) higher than July
MY 2018: $74,188; $449 (0.6 percent) lower than July
MY 2017: $53,326; $3,730 (7.5 percent) higher than July
MY 2016: $39,492; $1,323 (3.5 percent) higher than July
Compared month over month, the company says trucks sold in August brought 2.8 percent more than July. In the first eight months of 2020, J.D. Power says pricing averaged 15.7 percent lower than the same period of 2019. Depreciation in 2020 is averaging 2.8 percent per month, identical to last month's average.
"Since mid-June, we've seen an increase in selling prices for the lowest-mileage iron," the company states. "In a typical used truck market recovery, pricing eventually increases for average mileage trucks as well, as the supply/demand relationship continues to move positive. This time around, the next few months will be anything but typical, so consider us cautiously optimistic at this point."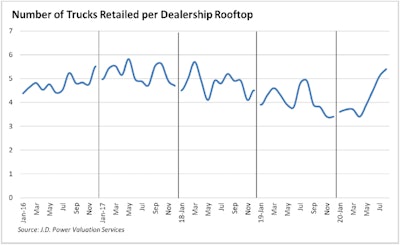 Dealer sales totals also boomed in August, with an average of 5.4 trucks per rooftop — the highest single month total for the market since March 2018. This total also was 0.3 trucks more than July and 0.5 trucks more than August 2019.
J.D. Power reports the medium-duty space also had a strong August, universally surpassing averages recorded last month.
The average price in August for Class 3-4 cabovers was was $12,542, $1,198 (9.8 percent) higher than July but $3,446 (21.6 percent) lower than 2019. Class 4 conventionals were equally strong at $21,492, $1,802 (9.2 percent) higher than July and $633 (3.0 percent) better than August 2019. Class 6 conventionals weren't quite as strong but still rose 1.5 percent month over month to $22,133, $334 more than last month. That total was $3,102 (12.3 percent) lower than last August.
Looking at the overall market, J.D. Power states the used truck industry has "been amazingly resistant to the massive social, political, and economic upheaval our country is enduring. Through it all, consumers continue to buy goods and construction projects continue."
The company notes as the positive effects of the CARES Act fade away and the election debate heats up, some market volatility is to be expected, but looking longer term the company can see positivity for the market ahead.
Economically, the company says a "moderately optimistic" scenario includes unemployment rates remaining stable or rising only slightly entering the winter. Politically, the company says optimism can be found if "in-person and mail-in voting proceeds as designed, and the eventual outcome is accepted as legitimate. We would include a delay in counting votes and even a 2000-style Supreme Court involvement as within the scope of this optimistic scenario, as long as the end result is accepted by both the winning and losing candidate, and the transition proceeds properly. Regardless of who wins, we don't see a major change in tax or regulatory policy, at least until all segments of the economy are closer to normal."
J.D. Power says if those positive scenarios become reality, expect used truck supply to continue falling as freight volumes stabilize across all segments — and used truck pricing to increase in kind.
For more information, and to read the entirety of this month's report, please CLICK HERE.