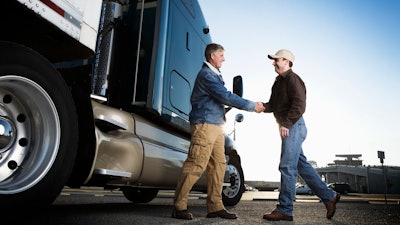 The used truck market has been facing a downturn in sales in recent months. In the latest report from ACT Research, used Class 8 volumes fell again month to month — this time an 8 percent drop from June to July, with average retail prices remaining flat.
Despite a consistent decline in sales over the summer months, dealers say it's still a good time to accept and sell heavy-duty trucks on consignment.
"We continue to offer consignment sale services to our customers. Many truck owners and fleets have taken advantage of last year's uptick in used truck values to dispose of extra equipment at some of the highest values we have ever witnessed," says Michael Robinson, director of used truck sales, Hunter Truck.
Rochester Truck also continues to sell trucks on consignment, according to Truck Sales Representative David Hunt. "If somebody calls me and wants to put a truck on consignment, as long as it's a decent truck that fits our market, we'll sell it. There's a butt for every seat," Hunt says.
And, regardless of the current overall market, the dealership hasn't seen a decline in the number of trucks it sells on consignment. Rochester Truck sells an average of eight trucks a year on consignment and has already sold five vehicles in 2022.
[RELATED: Used market maintaining optimism despite summer skid]
Hunt and Robinson agree selling heavy-duty trucks on consignment can be lucrative for buyer and seller, alike.
"If someone has a truck they want to relieve of duty they will call us and ask, 'Hey, would you be interested in buying this truck from us.' When we buy a truck, we're going to buy at wholesale levels. But when we consign trucks, consignees are going to get more money in their pocket because we can ask whatever they want us to ask for it and we take a percentage of the truck. For us, we take 10 percent off the top," Hunt says.
What helps consignees is Hunt's 14 years with Rochester Truck. "Ninety percent of the time someone comes to me with something, I know generally a handful of individuals who are going to be interested in it and I will reach out to them," he says, adding he often sells the trucks before the dealership can advertise them.
"Consignment sales through a dealer network continues to provide many advantages to fleets, buyers and dealers," Robinson says.
The dealership offers its brand, advertising, sales force, financing and networking capabilities, which frees the fleet owner to focus on growing its business and taking care of its customers. The dealer also provides guaranteed funding sources and privacy by having the dealer personnel interact with the buyer, finance companies and title and registration services, according to Robinson.
"Buyers receive the advantages of having the dealer supply financing sources, opportunity to purchase used truck protection packages, aftermarket upfitting services and licensing services," he says. "The dealership benefits from increased inventory availability with no carrying costs, predetermined profitability and a strengthened customer relationship."
[RELATED: Should you sell trucks on consignment?]
However, for consignment to work well for all parties, a detailed buyer/seller agreement is paramount, Robinson advises.
"A well-defined agreement between the dealer and seller — with a predetermined sale price that both agree is a reasonable expected market price, along with an expiration date and commission percentage — is foundational to success," he says.
What's more, "when entering into these types of agreements it is very important to understand any local and state regulations that may impact the dealer and/or seller, so be sure to check with the licensing agencies in your state," Robinson adds.