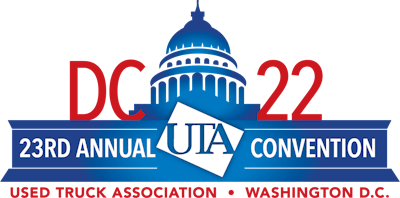 A group of insightful industry experts have been pegged as speakers at next month's Used Truck Association (UTA) Convention, set for Nov. 9-12, at the Gaylord National in National Harbor, Md.
Ken Gronbach will provide the event's keynote address. Gronbach is president of KGC Direct and is an internationally respected demographer who has been able to forecast societal, commercial, economic, cultural and political phenomena with uncanny accuracy. UTA says his unusual blend of marketing savvy and common-sense demography, based on over 20 years of proprietary demographic study, set him apart.
[RELATED: Is the used truck market bounce back underway?]
Industry speakers will be Dr. Chris Kuehl, managing director of Armada Corporate Intelligence and top economist keynote speaker; Laura Perrotta, president of the American Truck Dealers (ATD); Yunsu Park with the North American Council for Freight Efficiency (NACFE); and Steve Tam, vice president at ACT Research.
To read more about each speaker and see the full UTA Convention schedule, please go to the UTA's event website.