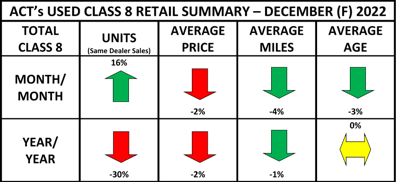 ACT Research announced Thursday in its latest State of the Industry used truck report that used Class 8 retail sales volumes totaled 245,000 units last year, a 7.5 percent drop from the 265,000 units sold in 2021.
Same dealer sales retail sales volumes were up 16 percent month over month in December but down 30 percent year over year. Average miles, price and age were down 2, 4 and 3 percent from November.
"Activity typically sees a moderate increase in December, so the increase was directionally consistent with expectations," says Steve Tam, vice president at ACT Research. "We ascribe the relative strength to the elevated new truck sales in November and December, which helped to sate pent-up demand in the inventory-starved used truck market.
"While the economy and freight markets are slowing, effectively cooling used truck demand, there are many used truck buyers who have been forced to hold onto their trucks beyond their expiration dates."
He adds used Class 8 retail truck sales last month we're still meaningfully weaker for longer-term comparisons, falling 30 percent year over year and 35 percent for all of 2022 compared to full year 2021.