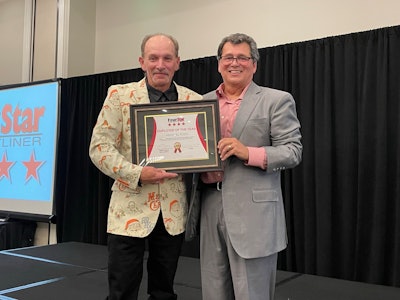 Michael Todd, service manager for Four Star Freightliner, was recognized as Employee of the Year during the company's annual Year End Employee Celebration.
Todd, who will be promoted to service director for the Midway, Fla. and Valdosta, Ga., locations in January, has worked for Four Star Freightliner for 13 years.
"I was shocked when I first heard my name called because I felt there were other people that deserved it more than me," Todd says. "But I am beyond delighted for the recognition."
Four Star Dealer Principal Jerry Kocan describes Todd as an exceptional leader who puts his focus on people and customers. "He is an outstanding leader but a better person", he said. "We are very fortunate to have Michael as part of our Four Star family."
Todd believes his most important jobs are being a problem solver and providing both training and assistance for future service managers in the Midway and Valdosta locations.
"He has mentored and developed two future managers who will operate the Midway and Valdosta dealerships for him," says Scott Dixon, Four Star's operations manager. "Michael's ability to find, develop, and empower future leaders makes him invaluable to Four Star Freightliner's future."
Todd was applauded for his accomplishments during the Year End Employee Celebration honoring Four Star employees at the Sandestin Golf and Beach Resort on Dec. 10.