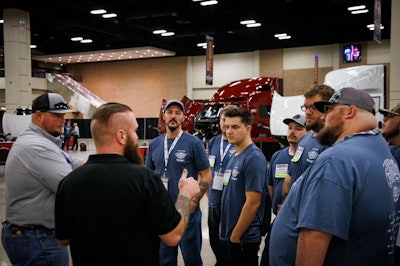 Chris Weiler isn't your average Rush Truck Centers Rising Star.
Rising Star is a training and retention program for Rush's entry-level techs. Weiler, from Markham Idealease in Ontario, Canada, is 40.
Weiler said he worked on cars before and found himself looking for more stability when he found Rush. "There's never not going to be a need for moving freight," he says. He's been on the job 10 months. "It's great to work for a company that keeps the country moving. Everything from trucks to buses."
His grandfather was a truck driver. Weiler remembers his trophies and even has his million-mile shirt for the grocery company he worked for.
Rusty Rush, president and CEO of Rush Enterprises, says programs like Rising Stars go a long way toward helping Rush retain level 1-2 technicians, historically the hardest to keep on the job.
"Retention is the biggest obstacle we face," Rush says. "And it's those early years. We're doing everything we can to recognize them."
Part of that recognition comes at events like the Rush Truck Centers Tech Skills Rodeo.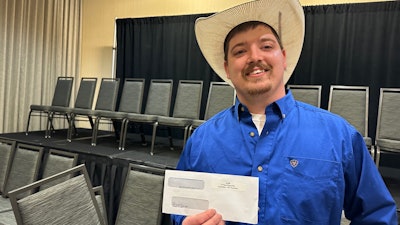 Luke Bailey, 22, works at the Rush Truck Center in Texarkana. As far as rodeos go, this isn't his first, though it is the first one without cows and with clutches. He says the tests the Rising Stars undertook at the rodeo were tests of how to find the knowledge; they were allowed to use their reference materials.
"It's a test of finding the knowledge," he says, adding that some of the problems weren't anything the green technicians would have touched before.
Rush Chief of Operations Mike McRoberts says about 40% of the techs they lose go to other industries all together.
"Training and retention go hand-in-hand," McRoberts says. "It needs to be interlocked."
Joey Craig, 23, is a mobile technician from Rush Truck Center in Ardmore, Oklahoma. He came from another industry — he worked construction with his father in west Tennessee.
Craig, a graduate of Universal Technical Institute and the Peterbilt Technician Institute, says the tests were difficult, but what the judges were trying to see not if you could fix the problem, but if you could fix it the correct way. "There are opportunities all the time," Craig says. "Whatever you want to do, you can do it."
Bailey says the Rush job — and he's careful to say he's always had good jobs — is the best he's ever had.
"There's not only the opportunity to grow as a tech, but to go into management," he says.
All three want to return to the rodeo, they confirmed with enthusiastic but unprintable answers.
"It's a great opportunity for new techs to shine out," Bailey said.
Both Bailey and Weiler see themselves eventually becoming service managers.
As for Craig, he hopes he's still on the road.
"I love wrenchin'," he says with a huge grin. "I hope I'm still riding around in that truck."
This story has been corrected.