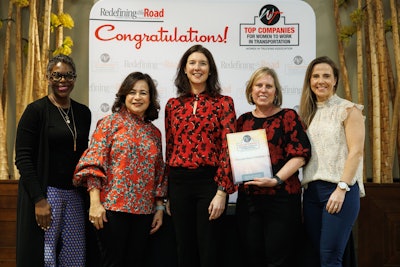 Peterbilt is proud to be recognized as a 2023 Top Company for Women to Work for in Transportation by the Women In Trucking (WIT) Association. This recognition program was developed in 2018 to support WIT's mission to promote the accomplishments of companies that are focused on the employment of women in the transportation industry.
Kenworth, Paccar Parts and PacLease also were honored by the Women in Trucking.
"Peterbilt values its diverse workforce. Recognition as a Top Company for Women to Work for in Transportation for the sixth consecutive year reflects our ongoing commitment to providing career advancement opportunities that empower women in their careers and create a workplace culture that values and celebrates the contributions of all employees," says Jason Skoog, Peterbilt general manager and Paccar vice president.
Peterbilt has several initiatives to support diversity and inclusion in the workplace that include the Peterbilt Diversity Council which is committed to recruiting, developing and promoting a diverse workforce and equal career opportunities for all employees and Employee Resource Groups like Peterbilt Women's Initiative (PBWIN) that advocates for inspiring, professionally developing and championing the empowerment of women.