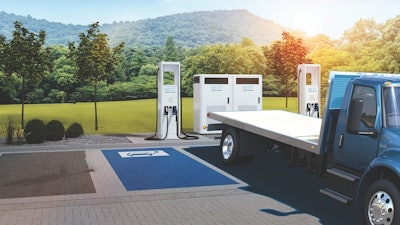 Navistar
For salespeople who've spent their entire career supporting diesel engines, learning how to market alternative powertrains may feel daunting.
But according to the manufacturers producing this new technology, training a salesperson to intelligently support alternative powertrains and electric vehicles does not require a dramatic shift in tactics or go to market strategies.
If anything, these new technologies offer dealers even more opportunities to win business.
Selling alternative powertrains and electric vehicles is all about consultative selling. Dealers who understand how to marry product expertise with customer knowledge, market requirements and long-term return on investment (ROI) projections can have success securing sales when pitching these technologies to the right fleets.
Help is out there
Manufacturers can assist in finding ideal fleets.
"We have created an entire division within Navistar that is entirely focused on this," says Michael Lynch, director, Zero Emissions. "We have a go-to-market group that is working with customers and dealers to help customers make the best decisions possible for their operations."
Adds Daimler Truck North America, "Similar to our MO when introducing any new vehicle, our sales and marketing and aftermarket teams work hand-in-hand with our customers and dealers to explain the included technologies."
Early adoption into alternative powertrains, particularly electric vehicles (EVs), has been heavily defined by applications and operating location. Manufacturers are using their expertise of their new truck buyer base to communicate possible sales leads to dealers.
"We have some very proactive dealers who see this technology as the future and others who are coming on board because they see they have ideal customers in their area," says Mack's Scott Barraclough, senior product manager of e-Mobility.
Customer interest also can be uncovered through conventional sales campaigns. Lynch says truck shows and customer ride and drive events have been excellent tools for Navistar.
[RELATED: Trucking is pondering a future without the diesel engine. Why?]
"We've been trying to get our product out there as much as we can," he says. "If people can see it, feel it and touch it, that really makes a huge difference."
"We've found once drivers get in these trucks they love them," adds Tom Del Gaudio, new truck sales manager at Hudson County Motors, a dealer who has had success selling EVs in New York and New Jersey. "Having demos on site is almost always worth the time."
In states like California where adoption of zero-emission vehicles (ZEVs) will soon be mandated, government and third-party organizations also have stepped up to host customer events to educate industry and drive interest to dealers.
"I work with a lot of fleets in their transition to ZEVs and we know that can be challenging and complex," says Clare Bachman, CALSTART fleet technical assistance project manager.
Bachman says CALSTART's new Cal Fleet Advisor program, launched in August in collaboration with California's Air Resources Board (CARB), was created to support fleets in that transition. Though the program exists mainly to educate motor carriers, Bachman says she also hopes it can become a lead generator for dealers.
"If a dealer is interested in selling ZEVs in California, this program will help them by helping their customers," she says.
(For more on identifying possible customers, see our article "Performing an alternative power market analysis.")
Pitch intelligently
Uncovering customer interest in EVs or alternative powertrains is important, but that work alone won't land a sale. Dealers also must develop smart, informative sales presentations that motivate buyers to take a chance on new technology.
"You can't be an order-taker with electric vehicles," says Brian Tabel, assistant vice president, marketing, Isuzu Commercial Truck of America. "You really need to know a customer's business. What routes are they taking? What are they hauling? Do they have a liftgate? How many stops are they making? All of that impacts the life cycle of the battery and a salesperson needs to know that to put the customer into the right vehicle."
Those answers vary by application too, which means a customer interested in a heavy-duty refuse truck can't be pitched the same way as someone wanting a regional delivery vehicle — even if their daily miles driven and charging availability are similar.
Manufacturer training programs exist to teach dealer sales associates how to speak to both customer segments. At Nikola, these consistent events update employees on "product updates, announcements, recent milestones achieved and progress on Nikola's overall business on a consistent basis," the company says.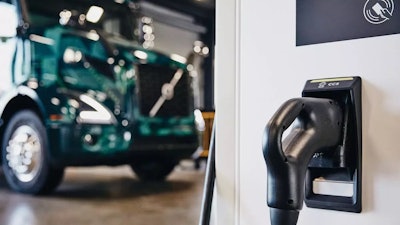 A strong sales pitch also requires expertise on purchasing incentives to bring prices in line with diesel tractors.
"A new Class 8 garbage truck is almost $500,000. That's not something people want to spend — even if it's helping the environment. A diesel truck is maybe half that," says Del Gaudio. "You have to know how important funding is and how you're going to get it."
Manufacturers have comprehensive databases dealers can use that track incentive programs available by state. CALSTART does the same within California. These entities should be leveraged heavily in advance of a sales call.
Once funding options are identified, dealers should couple that information with what they know about a customer's interest in alternative powertrains and their normal truck purchase and usage histories to build total cost of ownership (TCO) and return on investment (ROI) calculations.
Tabel says Isuzu is already working to build the latter for its dealer partners to use during sales interactions. "We can guide them through the product, show them the ROI … With some customer's business models, maybe an EV is a great option for them," he says.
Acknowledge drawbacks, outside influences
With EVs in particular, purchase incentives, lower maintenance and fueling (charging) costs can bring a new EV tractor in line with a diesel from a TCO perspective. Where closing a sale becomes challenging is offsetting the additional costs from charging infrastructure and training, and the lack of a secondary resale market.
"There's not an aftermarket for these trucks today, but we do see that coming in the next three years," says Jared Ruiz, EV leader and vice president at Volvo Trucks North America. "We have a new division within Volvo Group called Volvo Energy that we have tasked with finding the right solution and second life for batteries and this equipment."
Adds Tabel, "If only I had my crystal ball. I don't know think we know yet what the secondary market will become. I think that's something we're going to learn these next few years."
But OEMs also believe full-service leasing programs and vehicle-as-a-service contracts can reduce the impact of some of those concerns. Ruiz says Volvo's comprehensive service package "offset risk to the customer" and support the truck and provide uptime "in the best way possible."
[RELATED: CARB, CALSTART launch customer advisory program for ZEV adoption]
"We can offer innovative financial products to take that burden off customers," adds Barraclough.
Carlo Rodriguez, group director for advanced vehicle technology at Ryder System, says his business has also created bundled rental and leasing packages for EVs that are designed to expose customers to the technology while minimizing financial uncertainty.
"Bundling services into one contract and one cost makes it easier for customers to get on board," he says.
Finally, there's the matter of sustainability. For large fleets and public carriers specifically, investing in EVs and alternative powertrains can be about more than just the bottom line.
Dealers shouldn't overlook that when a prospective customer is pondering a sale.
"With an emphasis on sustainability and doing more to protect our environment, EVs provide an excellent opportunity for our customers to begin reducing their emissions and to enhance their public image as an early adopter of new, clean technology," says PacLease Director of Sales Todd Berger. "And, with federal and state mandates that will require fleets to operate EVs coming, beginning the process now to electrify some vehicles will help in their preparation for an industry that will soon change."
Keep up with our special report on trucking's transition to cleaner trucks:
Part I: This isn't trucking's first fueling and propulsion revolution
Part II: Why are we doing this?
Part III: What constitutes as 'alternative power'?
Part IV: What will drive — or inhibit — alternative power adoption?
Part V: Performing an alternative power market analysis
Part VI: What it takes to install charging infrastructure
Part VII: Training on alternative powertrains vital to employee safety, business success
Part VIII: The challenges of building your best EV service bay
Part X: Safety in the Service Bay
Part XI: How electric trucks may transform dealer revenue streams